Rawcutz brings you this new library called Raw Sliced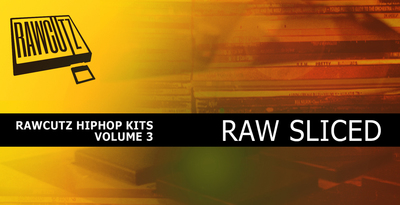 HIPHOP KITS – VOLUME 3 is loaded with – Raw Crusty Cutz – Rusty LoFi Samples – Sliced Chords – Thumpin' Kicks & Cranked Snares – Crisp Mashed Hats – Raw & Jazzy Basses – Mad Trippin' Dub and Tape FX – Crusty Raw SP1200 Breaks and Phunky Phat Loops.The third and final collection of RAW CUTZ HIPHOP KITS. Filled with loads of Rusty, Raw and Jagged loops and samples to spice-up a wild set of flavours into your beat making stew. RAW SLICED pushes the beats into Swung, Jazzy, Dilla inspired HipHop full of Crazy Cutz and Sliced Up Samples.
Free Download DemoMore RawcutzMore Hip-HopMastering service
The music genre for this product collection is mainly Hip-Hop
Made by Turf Smoke exclusively for Raw Cutz.
If you are producing Hip-Hop, here you can find also more Hip-Hop presets and/or sample packs
With a Myriad of Loops, Stems, Kits and One Shots to choose from, RAW SLICED will get you creating within minutes – no matter what setup, tools or platform you use. A gigantic collection of that Raw Dirty sound that so many Producers of Classic HipHop have come to collect, sample and value as crucial weapons in their beat production.

Additional production style(s) for this collection is/are Urban
RAW SLICED LITE is a low cost, entry level version in Maschine (5 Kits – 5 Projects – 92 Samples) – can at any time be upgraded to the complete RAW SLICED.

RAW SLICED comes in 3 Versions – properly mixed and mastered in a consistent structure for endless new combinations. N.I. Maschine Kits, Ableton Live Projects or Loops & Samples.

Want to try some samples first?
Create an account and download free samplepacks from Rawcutz here
Finished your production?
We can do the Mixing and or Mastering here for you.