Niche Audio brings you this new library called Essential Vocal Cuts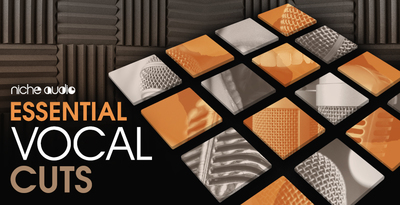 Essential Vocal Cuts provides you with an exceptional selection of useful one shot vocals to use in your productions. Scaling through multiple genres and moods, you'll find vocals that are sure to ignite inspiration in your latest productions.Niche Audio are proud to introduce Essential Vocal Cuts. This extensive collection of hand selected vocal samples is the perfect addition to your arsenal. Taken from some of our greatest packs to date – this selection of vocal samples is a great way of adding that elusive final touch to your productions.
Free Download DemoMore Niche AudioMore VocalsMastering service
The music genre for this product collection is mainly Vocals
Consider some of the best Electronic music ever made and you will often notice an organic element – whether it be a piano, strings, a guitar or a vocal. Just a hint of organic vibe is all that's needed to connect your song with the listener. Vocals are undoubtably one of the best organic elements that you can add to any of your songs.
If you are producing Vocals, here you can find also more Vocals presets and/or sample packs
We know that an important part of the process is finding that final organic element that ties together the production; That last 5% ingredient that brings the whole thing together, adding character and personality that only a particular vocal sample can achieve. We're here to help you find that ingredient by providing you with an extensive collection of tried and tested vocal samples.

Additional production style(s) for this collection is/are Drum and Bass, House, and Techno
The range, sound and style of vocal hits in this pack is wide. Coming from many sources and producers, so unlike a full acapella pack with the same vocalist you don't get that frustrating experience where the style doesn't fit the vibe of your track.

Niche Audio goes one step further, you'll find more than just a folder containing one shot WAVs. Our samples have been hand selected, named and organised into 16 individual kits ready to be loaded straight into Maschine and Ableton Live.

Want to try some samples first?
Create an account and download free samplepacks from Niche Audio here

We've also included a collection of 10 brand new instrumental House kits made exclusively for Essential Vocal Cuts. You'll find fresh new Drums, Percussion, Bass, Synths, FX & more. All kits are provided in both Maschine & Ableton Live format, making sure that you have everything you need to start making great music now.

Regardless if you produce House Techno, DNB, Dubstep or Trap you will always find something that you can use. Don't expect super clean samples though – Niche Audio is all about authenticity and vibe which you'll find here in spades.
Finished your production?
We can do the Mixing and or Mastering here for you.