by Exclusive Bundles+
More Exclusive Bundles+
More FX Bundle plugins
Mastering service
Introducing the Creative MIDI Collection Bundle [Limited Time Exclusive Bundle]
A collection of creative MIDI effects plugins to enhance your production along with composition skills within your DAW.
iZotope's multi-effect monster, Stutter Edit allows you to play effects like an instrument for creating fills, edits, transitions, breakdowns and risers with the press of a few keys! Stutter Edit has now established itself one of the most popular effects plugins on the market, finding a home in the collection of most producers and DJs due to its great sound, versatility and multitude of uses both in the studio and on stage.
Mozaic Beats AutoTheory PRO is an effective studio utility tool which allows users to play any kind of chord progression from any key or scale with ease, whilst playing basslines and melodies that match each chord. AutoTheory works as a filter that you play through in real-time therefore allowing you to never play out of key.
Kirnu Interactive's Cream is an extremely powerful MIDI Arpeggiator which allows users to play leads, basslines and drums in new and imaginative ways. This plugin can be used both offline in a DAW or even in a live set.
Producertech Stutter Edit course is an inspiring producers guide created help you master iZotope's unique plugin. The course skilfully explains how each area works whilst constructing a new bank of presets from scratch.
iZotope's Mobius Filter adds movement and emotion to any prdoduction with it's ascending/descending filter sweeps. This allows producers to push their sounds to extreme heights or even add subtle motion to a track. The filter allows users to create many different effects which can fit any genre or style of music production.
The Creative MIDI Collection is time limited and exclusive to Plugin Boutique.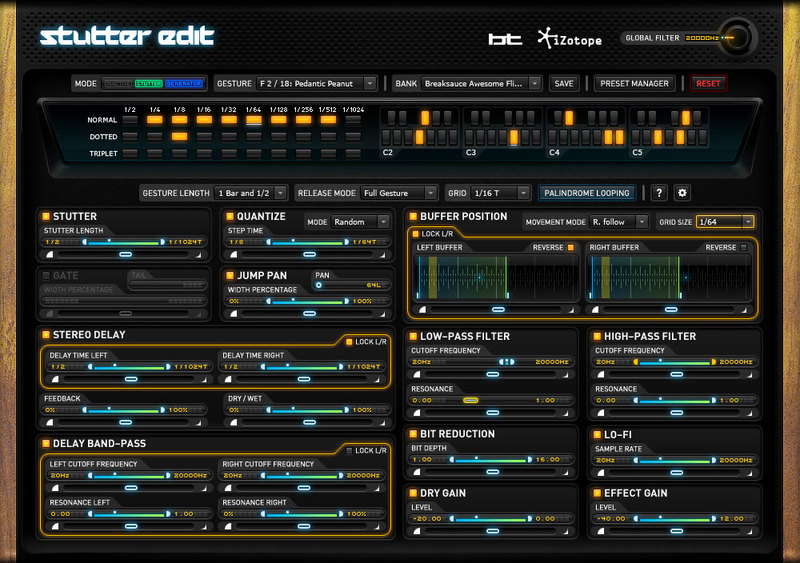 It's an effect. It's an instrument. It's Stutter Edit—an innovative tool for both studio and stage, designed by BT and developed by iZotope.
Tear up your tracks in real-time, building thrilling fills, complex effects, shimmering sweeps, and staggering stutters that will leave your listeners screaming for more. They'll think you spent hours slaving over the slices…but all it took was a press of a key.
Features
Play effects like an instrument
Remix in real-time, on stage or in the studio
Cutting edge audio slicing and manipulation
Elegant and intuitive MIDI control
Stutter Edit's features revolve around an innovative engine that continuously samples live audio, storing that audio in a buffer that can be manipulated in a myriad of ways. The key to unlocking Stutter Edit's capabilities is the use of Gestures: a set of effects and their associated timelines that reside on a single MIDI note. The audible result of a Gesture can vary from simple to complex—a Stutter Gesture could simply repeat a small chunk of audio at an 1/8 note rhythmic rate, or it could trigger a run of raging glitches that get decimated by a bit crusher before being filtered into a wash of echoes. Whoa.
Condensing such sonic adventures into a single key press is what makes Stutter Edit so playable, especially with its intelligent sense of timing. Stutter Edit is designed with musicality in mind, which frees you to make wild sounds that still feel like a natural part of your tracks. Outside of the studio, couple Stutter Edit with a host like Ableton Live to rocket your performances into a new world of organic improvisation.
Learn more about iZotope Stutter Edit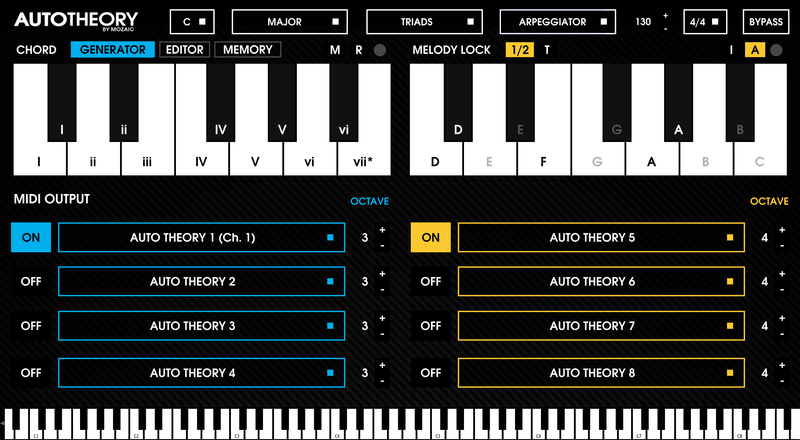 Easily play any type of chord progression from any key or scale, while simultaneously playing melodies or basslines that perfectly match each chord. Unlike other programs that perform composition for you, AutoTheory is a filter that you play through in real time. The patented tone shifting functions allow you to take your composition in any direction you choose, while never playing anything out of key.
AutoTheory is a midi mapping software that sits between your keyboard (or qwerty) and your DAW. It receives midi from your keyboard and sends multiple "virtual midi controllers" into your DAW, it is not a plug in.
Features
Chord Generator – Play any chord progression from any key or scale with one finger.
Melody Lock – Keep your hand in one position while appropriate melody tones shift to your fingers. Patented Functions. Multiple mappings for more experienced players.
Chord Editor – Design any type of voicing, inversion, out of scale or extended chord imaginable. Allows experienced players to edit chords on a step by step basis. Patented Function.
Device Outputs – Control multiple instruments simultaneously through both the Chord Generator and Melody Lock functions.
Learn more Mozaic Beats AutoTheory PRO
Kirnu Cream is a very powerful MIDI performer VST/AU/LPX MIDI FX plugin for Windows and Mac. It works on both 32 and 64 bit systems.
Cream is intended to be used in both live and offline DAW usage.
With Cream it's very easy to create catching lead parts, bouncing bass lines, swinging drums and lots of other cool stuff. The only obstacle is your imagination 🙂
Cream isn't like any traditional MIDI arpeggiator or sequencer. It's a lot more. With simple and clever design it has been made easy to learn and operate. You can easily create cool performances by tweaking only couple of controls. If this is not enough for you there are so many ways you can control Cream that you never feel bored with it.
Kirnu Cream is good for everybody; hobbyists, professionals, producers, composers, mamas, papas… whoever needs a good MIDI performer to make their songs PERFECT!
If you are sick and tired of conventional MIDI arpeggiators, performers, sequencers you should try Cream and see yourself how it differs from the rest.
Chord Memory – Chord memory makes it possible to play complete chords with only one note. Cream chord memory has 16 memory slots and the ability to save chord memory presets. Chords are easily inverted using the inversion tool. Also copying/pasting between chord memory slots is possible.
Pattern Sequencer – Cream features 12 patterns in every Track. Patterns can be automatically changed with the pattern sequencer. Using the pattern sequencer enables you to make complex sequences from simple pattern snippets easily. Patterns can also be changed with control zone using external MIDI keyboard or MIDI clips.
Sample Accurate MIDI– Kirnu 1 was famous for its ability to generate MIDI notes with accuracy where no samples are skipped. Kirnu Cream is no exception from this. Its state of the art MIDI engine
performs at the same level with very low CPU usage.
Tracks – Cream features 4 independent tracks with independent key areas and MIDI in/outfunctionality. This means 4 independent MIDI engines can be programmed to producedifferent output at the same time. Even two tracks playing at the same time can produce amazing sequences to fill important parts of your song.
Patterns – There are 12 patterns in every track. Patterns are the 'heart' of Cream which actuallygenerates the output MIDI notes. Every pattern has 9 step data controls – managed in tabs- which are used to manipulate the input MIDI stream. Every step data section featuresindependent looper control which enables for example LENGTH control to advance different direction as the others.
Much More…
Kirnu Cream has so many cool features – it would be impossible to list all them here. Go and grab the demo version and test Cream yourself. If you like it, purchase a license and support our future plugin development!
You are about to experience something you haven't experienced before because no one has been able to produce anything similar like Cream is. Explore, experiment and enjoy. There's nothing more enjoyable than making your own music.
Learn more about Kirnu Interactive Cream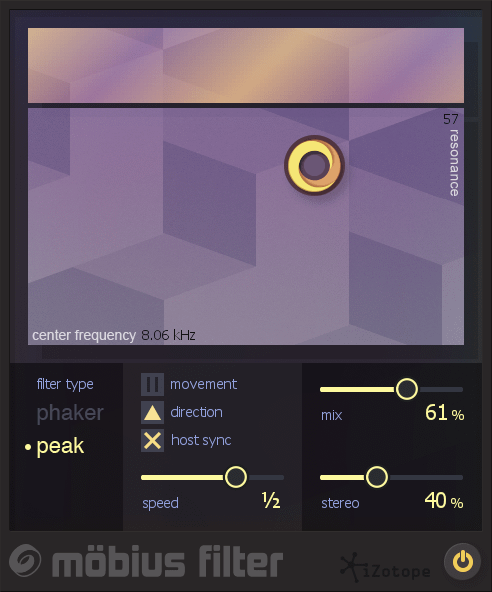 Perpetual Motion Machine
Add movement and emotion to your music with Mobius Filter's infinitely ascending or descending filter sweeps. Find the sweet spot for your track quickly and fluidly, to push to extreme heights or add subtle hints of motion. Create fresh filter effects for any genre—massive filter swells, psychedelic alternatives to flange effects, or fresh inspiration for adventurous soundscapes.
Based on the auditory illusion of the Shepard tone, Mobius Filter creates perpetually rising or falling effects while maintaining full-frequency bandwidth. Add it to any source audio to instantly create fresh energy for your tracks.
Features
Drag it around: Draw your own expressive sweeps with the X/Y pad, making fluid adjustments to both Center Frequency and Resonance using a single control.
Get in sync: Get a rapid, pulsing effect or slower motion by adjusting the Host Tempo Sync to anything from eighth notes to eight bars.
Immerse yourself: Create an immersive environment with the Stereo slider, which widens the stereo field in an amount of your choosing.
Put it on hold: Create a static filter effect by pausing the filter motion with the Pause function. Or, pause when it feels right and then automate to create custom sweeps.
Learn more about iZotope Mobius Filter
iZotope's Stutter Edit has now established itself one of the most popular effects plugins on the market, finding a home in the collection of most producers and DJs due to its great sound, versatility and multitude of uses both in the studio and on stage. In this course, Producertech senior tutor Rob Jones works his way through the plugin, skilfully explaining how each area works whilst constructing a new bank of presets from scratch.
After showing how to set up the effect in Ableton Live, Logic and Maschine, Rob begins with some examples of how to create simple effects progressions, called gestures, starting off with high- and low- pass filter sweeps. He then moves on to the main Stutter sections, taking you through the principles behind each one before building a number of different presets, including classic, looping buildups, choppy, time-stretched beat destroyers and much more.
As well as using Stutter Edit's sections to create some more traditional effects like flangers and bit-crushers, Rob shows how they can also be used to make really useful vinyl scrubbing effects and subtler send effects layers. He then moves onto the plugin's generator engine, which allows the programming of a variety of noise-based impacts and riser FX presets.
The 2 hours of streamed tutorials come with the bank from the course, containing 15 highly usable presets. Before signing up, check out the sample module, for an example of the teaching style and course content.
System Requirements
iZotop Stutter Edit
Operating System
Windows: XP (32-bit Service Pack 3), Vista (64-bit), 7, 8, 10
Mac: OS X 10.6.8–10.11 (Intel only)
Plug-In Formats
Pro Tools 7.4–12 (RTAS, AudioSuite, 64-bit AAX), VST, VST3, Audio Unit, DirectX
Plug-In Host Compatibility
Ableton Live, Pro Tools (7.4–11), Cakewalk SONAR, Steinberg Cubase 4+/Nuendo 4+, Image Line FL Studio, Cockos REAPER, MOTU Digital Performer, Apple Logic, NI Maschine
Please Note: Stutter Edit works differently than other audio effect plug-ins, it requires MIDI input from your host to trigger its effects. Not all hosts allow you to send MIDI to audio effects.
Moziac Beats AutoTheory PRO
Compatible with Mac OSX (10.6 and up) and Windows (7 and up).
Operates as a standealone application.
Each license includes 2 iLok activations so can be run on multiple machines.
Kirnu Cream
VST/AU for Windows 2000/XP/Vista/7/8 (32/64bit), Mac OS X 10.5 or higher.
iZotope Mobius Filter
Mobius Filter runs as a plug-in within your audio editing software. Mobius Filter is not a standalone application.
Windows: 7, 8, and 10
Mac: OS X 10.8–10.11
Plug-In Formats
AAX (64-bit), AAX AudioSuite (64-bit), RTAS (32 bit), DPM AudioSuite (32 bit), VST2, VST3, and Audio Unit.
Plug-In Host Compatibility
Pro Tools (10–12.4), Ableton Live (9–9.5), Logic Pro X, Cubase, Studio One, Digital Performer, Reaper, Sonar
Want to try it first?
Create an account and download free Exclusive Bundles+Creative MIDI Collection demo here