Resonance Sound brings you this new library called SOR Shhh – I Am Speaking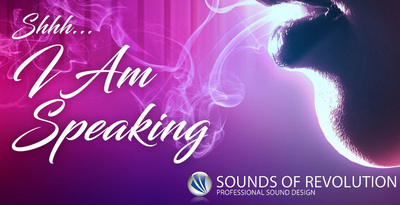 Search no more – Sounds of Revolution (SOR) succeeded in hunting for just these ingredients!A calming magical voice, gently haunting words or velvety whispered phrases – doesn't this sound like the cherry on top of a great musical masterpiece?
Free Download DemoMore Resonance SoundMore VocalsMastering service
The music genre for this product collection is mainly Vocals
Find all vocals perfectly clean with a nice stereo image (100% mono compatible) and with no effects added, each word/phrase spoken in up to 4 different variations and leaving all creativity to the producer: why not create something completely new'n'fancy, such as lunatic dialogues, big crowds or whispering voices coming from everywhere?
If you are producing Vocals, here you can find also more Vocals presets and/or sample packs
Let a highly professional native UK speaker serve you single words, phrases or even variable sentences / group phrases, in just as many flavours as needed to fit into your track.

Additional production style(s) for this collection is/are Deep House, EDM, Tech House, and Cinematic
No matter whether we're talking Chillout, EDM, Trance or something completely different – it's never been easier to make the dancefloor shine, shiver, dance or cry. Come and see!

Also, if there's nothing you like more than timestretching, pitching or effect-mangling vocals – be our guest!

Want to try some samples first?
Create an account and download free samplepacks from Resonance Sound here

Please note: 'SOR Shhh – I Am Speaking' is a vocals pack only. The demo contains sounds not included in this pack that are for demonstration purposes only.
Finished your production?
We can do the Mixing and or Mastering here for you.