Delectable Records brings you this new library called The Perfect Kick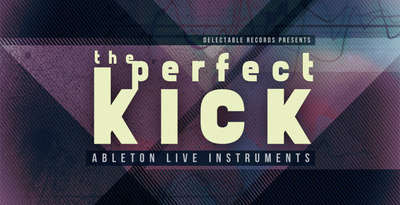 The instruments combine the versatility of the Operator synth that was used to create the body of the Kick and Sub sounds nuances with audio fragments specifically designed to give definition to the Kicks ensuring they stand out in your mix.Delectable is proud to present 'The Perfect Kick' Ableton Live specific pack, entirely geared to a quicker creation of EDM Kick sounds.
Free Download DemoMore Delectable RecordsMore Sound ArchivesMastering service
The music genre for this product collection is mainly Sound Archives
You can find 4 tools with Full 8×8 macro controls:
If you are producing Sound Archives, here you can find also more Sound Archives presets and/or sample packs
The Instrument Racks have a number of adjustments designed to give the opportunity to radically modify and tune the sound quickly and with ease, specifically with the production of a pair of waveforms and the layering of operators that create a rich Ableton Sampler of 128 click & cut sounds especially chosen to make your Kick unique and clear.

Additional production style(s) for this collection is/are Drums and House
Smash Kicks : A really interesting section that involves all aspects of EDM music. Suitable for many styles and genres including House, Tech, Techno and Tech House productions . This versatile tool is defined by a specific and characteristic timbre that makes it unique where the Kicks have a fair amount of sub frequencies and a punch that is difficult to find. For this series of presets we took heavy influence from artists such as Umek, Daniel Portman, Paul Kalkbrenner, Booka Shade, Tocadisco and Ramon Tapia.

Weird Kicks : Useful for Bass Music Kicks and genres like Dubstep , Dub , Drum & Bass , Electro, etc. This tool is packed with heavy sounds and distortion effects essential to boost your productions making them as similar as possible to artists such as Nero , Skrillex , Mord Fustang , and other artists of the Electro house and Mainroom/ Swedish scene like Avicii Steve Angello and Pryda.

Want to try some samples first?
Create an account and download free samplepacks from Delectable Records here

Experimental Kicks : Specifically inspired by prolific artists in the scene such as Pan Sonic, Alva Noto, Oval and Monolake ,designed for experimental genres producers such as Glitch and Ambient, offering a series of strange kicks , with extreme parameters and special -effected, even useful for parts such as intros or Breaks in Drum and Bass , Dubstep and EDM musical productions.

Electronic Kicks: Electronic sounds belonging to vintage and electronic kicks is recently really in vogue in almost all current genres of music so Delectable Records have decided to offer you a selection where you can find kicks to combine electronic and classic ones and will give you a wide choice of useful kicks for your House and Garage productions taking inspiration from such artist as Anthony Rother and Tiga. Keeping capitol electronic components rhythm impact, but also and above giving a sound suitable for genres like Break Trap, Jungle and Hip-Hop. The Macro Control of this tool will allow you to tune and vary the basic parameters (Decay, Release, Timbre and Pitch,) you can also choose between 3 basic wave generators in Operator , start mixing them together and you'll soon be creating endless combinations.
Finished your production?
We can do the Mixing and or Mastering here for you.