Black Octopus brings you this new library called Behemoth: Ultimate Drums & FX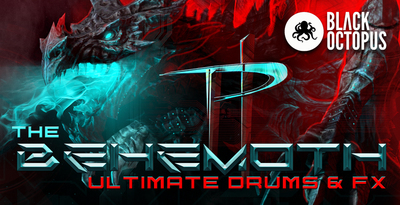 The drumloops range from 80 – 140 bpm and feature many variations and glitched fills and FX. The FX section contains huge risers, enders, falls, one shots, and even some bonus atmospheric sounds. Behemoth contains a monstrous amount of drum one shots to choose from – pick a kick from over 500 punchy and heavy kicks and match it with one of the crisp claps, nicely saturated snares, hihats, and percussion to create custom made drumloops for your music. All sounds in this pack are royalty free.Get ready for Behemoth, an absolutely massive pack of drum hits and fx samples. This pack features nearly 4000 crushing and searing hot drum samples from the mind of Paradigm Theorem (creator of Cyborg Onlsaught & Transcendent Trap). Everything you need to create your own drum loops is in this pack and all of the sounds have been processed to have a huge and heavy sound.
Free Download DemoMore Black OctopusMore Sound ArchivesMastering service
The music genre for this product collection is mainly Sound Archives
"Another killer sample pack from Black Octopus and they are my "go to" for samples and are superior compared to other generic sample packs" – David Starfire (https://soundcloud.com/davidstarfire)
If you are producing Sound Archives, here you can find also more Sound Archives presets and/or sample packs
"Massive new sounds from Black Octopus! This library proves once and for all that Black Octopus is here to stay. Excuse me while I lock myself in the studio…" – Ill Gates (https://soundcloud.com/ill-gates)

Additional production style(s) for this collection is/are Drums
"This is a seriously solid pack of hard hitting drums. All the drum hits you could ever need. Huge!" -Defunk (https://soundcloud.com/defunk-music)

"The Behemoth is the largest, most consistently excellent collection of electronic drum sounds I have ever heard" – Omega(https://soundcloud.com/omegadubstep)

Want to try some samples first?
Create an account and download free samplepacks from Black Octopus here

Format 24-bit WAV Size 3.1 GB (2.38 GB compressed) Produced by Paradigm Theorem (https://soundcloud.com/paradigm-theorem)
Finished your production?
We can do the Mixing and or Mastering here for you.