Zenhiser brings you this new library called Movie Stabs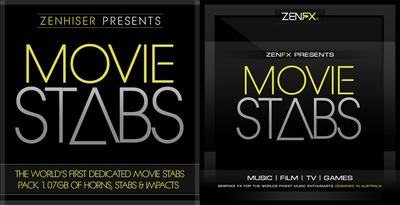 It took us months in the studio to create this pack and boy was it worth the wait, 302 perfectly created movie stabs, cinematic brass stab fx, commercial horns, blockbuster impacts, sci fi punch sounds and a whole lot more.There's no denying it, the BWAAR horn movie sound has taken over films worldwide, we love them big time, they deliver anticipation, drive, movement and an air of moodiness to films. Until now the movie stab sound was limited to major film companies and buried within the film scores. Well Zenhiser decided to do something about it and create the world's first sample pack dedicated to only Movie stabs, nothing else.
Free Download DemoMore ZenhiserMore FXMastering service
The music genre for this product collection is mainly FX
Movie Stabs squeezes in at just over 1.07GB of authentic movie sounds and with a sample pack this dedicated to just movie stabs makes this fx pack an absolute winner for all types of producers, remixers, film score artists, game fx teams and everyone in between.
If you are producing FX, here you can find also more FX presets and/or sample packs
We covered a multitude of options, genre styles and anticipation situations to offer an array of movie stab fx sounds never heard before. They cover everything from Sci Fi through to Horror movies and even an eclectic collection that would suit music productions
perfectly.

Additional production style(s) for this collection is/are Cinematic

Want to try some samples first?
Create an account and download free samplepacks from Zenhiser here
Finished your production?
We can do the Mixing and or Mastering here for you.