Zenhiser brings you this new library called Epic Drum Rolls & Fills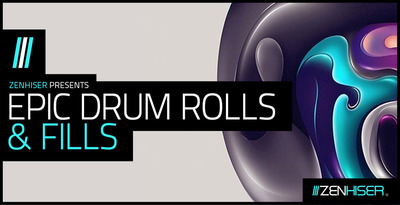 'Epic Drum Rolls & Fills' does exactly what it says, supplies an array of edm drum rolls and drum fills to epic proportions. Designed exclusively for EDM, House,Trance, Electro House, Progressive House and all the sub genres of dance this Zenhiser pack delivers exactly what you need in precession perfect quality. As with all Zenhiser packs we like to be a little ahead of the curve so to keep in tradition with our other drum rolls and drum fills packs we've supplied everything by size for ease of use. Xtra Small Drum Rolls in 05. – 1 bar long, Small Drum Rolls in 2 bars length, Medium in 4 bars and Large in 8 – 16 bar long samples. This makes it so much easier for browsing Zenhiser drum rolls, you can choose the right roll for the right place within your track in seconds.The key to anticipation, drive and euphoric rushes in your EDM tracks is the build up. It should take you a higher level of appreciation and turn clubbers into field of pulsating stompers. The uplifting drum intension, filter swept snares and rise of sfx makes this part of your track so important, the right drum roll, drum fill and sometimes upriser can turn a track from great to truly epic.
Free Download DemoMore ZenhiserMore EDMMastering service
The music genre for this product collection is mainly EDM
If you are producing EDM, here you can find also more EDM presets and/or sample packs
Please Note: Epic Drum Rolls & Fills contain SFX, builds and risers within the samples

Additional production style(s) for this collection is/are Drums, Electro House, Progressive House, and Trance

Want to try some samples first?
Create an account and download free samplepacks from Zenhiser here
Finished your production?
We can do the Mixing and or Mastering here for you.