Soul Rush Records brings you this new library called UK Bass Music Essentials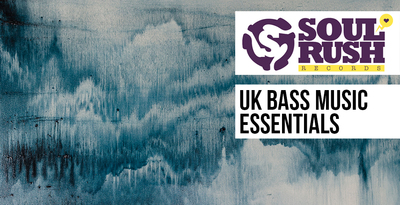 For this first edition of UK Bass Music Essentials from Soul Rush Records we're delving into the sounds of UK Funky, Deep House, UK garage and Afro Beat influenced amongst others by Justin Martin, Roska, Lil Silva, Quentin Harris and Dennis Ferrer.UK Bass Music continues to feed scenes that reach far wider than the island's shores.
Free Download DemoMore Soul Rush RecordsMore GarageMastering service
The music genre for this product collection is mainly Garage
All of our melodic loops were processed with different synths and plug-ins, from synthesised pianos and vintage compressors to sampling uncommon string instruments and sending them through tape machines and vinyl saturators.
If you are producing Garage, here you can find also more Garage presets and/or sample packs
We sampled recordings of real life textures and instruments from wind chimes and bongos to rainsticks & wood blocks to bring in a human and slightly acoustic feel to our electronic beats. All were then processed with vintage parallel compression, light reverbs, tape saturation and limiting with state of the art plugins to give the beats power and character.

Additional production style(s) for this collection is/are Bass House

We created unique bass sounds through sampling an 808 drum machine and sine waves and running them through a ton of distortion plugins and filters to create whistling resonant harmonics layered on top of the sub melody.

Want to try some samples first?
Create an account and download free samplepacks from Soul Rush Records here
Finished your production?
We can do the Mixing and or Mastering here for you.