Singomakers brings you this new library called Vocal Ultra Pack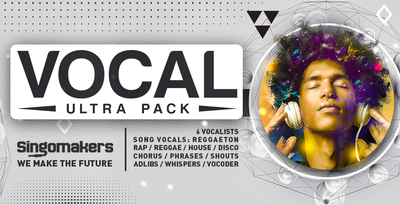 The Demo track of Vocal Ultra pack is a mix of genres, showcasing examples of how vocal parts can be used for House, Hip Hop, Reggae, Reggaeton etc.Singomakers are super proud to present Vocal Ultra Pack! A giant collection of different vocal parts from 6 different vocalists – 2 female and 4 male artists. 17 song vocals (112 Vocal Loops including DRY and WET versions), 708 Phrases, Shouts and Whispers, 30 Chorus Chord Vocals, 50 Vocoder Loops, 25 Adlibs, 50 Vocal Effects, 34 Bonus Loops (Drums, Basses, Melody Loops) and unlimited inspiration!
Free Download DemoMore SingomakersMore VocalsMastering service
The music genre for this product collection is mainly Vocals
Vocals from "Vocal Ultra Pack" are suitable for a wide range of genres, including House, Hip Hop, Reggaeton, Reggae, Nu Disco, Trap, EDM and more! BPM range is from 70 BPM to 135 BPM.
If you are producing Vocals, here you can find also more Vocals presets and/or sample packs
Recorded at Singomakers studio on NEUMANN U87 and RODE K2 with Avalon VT 737 preamp.

Additional production style(s) for this collection is/are Hip-Hop, House, and Reggae
We sincerely hope that you will enjoy "Vocal Ultra Pack" from one of the leaders of samples in the industry – Singomakers!

This Pack is available as full zip, but you can download specific repacks for cross-genres, like Hip Hop/Trap or House/EDM/Nu Disco or Reggaeton, Reggae and Vocal Phrases, and Vocoder Loops/Effects separately. But Full Pack is strongly recommended, as you would be able to play with different vocals for different genres.

Want to try some samples first?
Create an account and download free samplepacks from Singomakers here
Finished your production?
We can do the Mixing and or Mastering here for you.