Resonance Sound brings you this new library called Vintage Movie Vocals 3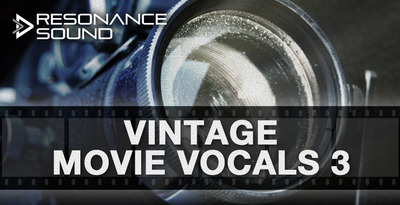 Many people will agree there's nothing better during the cold season than nestling down in a blanket, right in front of a cozy chimney, ready to hear some (pre-) christmas stories. But: don't you agree what writing a story yourself in your equally cozy studio sounds extremely appealing? With Vintage Movie Vocals 3 just arrived, this easily becomes true for your next EDM tune – don't we all know that a famous movie quote often tells a far better story than the movie itself! So get up and ready, fire up not only your chimney but also your DAW and add just the special spice to your dancefloor smasher! 465 vocal phrases and 40 effects have been beautifully wrapped by the studio heroes of Resonance Sound, containing movie vocals polished in a very vintage way, using the latest armory of professional sound design. Experience how some charming, charismatic phrases make your new tune shine brightly – no matter whether you're into Minimal, Deep House, Dubstep, Trance or something else EDM. All samples had been carefuly processed and reworked to give crystal clear sound with perfect stereo (100% mono compatible!). Now go ahead, make my day!

All samples are licensed for use under the new Creative Commons (Public Domain Mark 1.0) license agreement:http://creativecommons.org/publicdomain/mark/1.0/

Almost all additional samples (drumloops, drums, effects etc.) of the demo track are taken from our sample packs:
Free Download DemoMore Resonance SoundMore VocalsMastering service
The music genre for this product collection is mainly Vocals
If you are producing Vocals, here you can find also more Vocals presets and/or sample packs
Additional production style(s) for this collection is/are Cinematic and FX

Want to try some samples first?
Create an account and download free samplepacks from Resonance Sound here
Finished your production?
We can do the Mixing and or Mastering here for you.