Loopmasters brings you this new library called Junkyard Percussion Vol. 2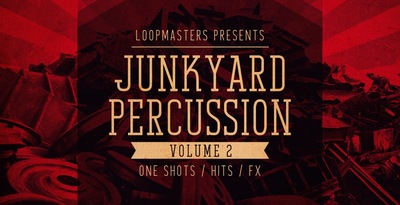 The adventure continues from where Vol1 left off at man's safe haven with more chaotic workshop sounds and noises and then takes us on an eerie trip into the garage where the dreaded garden implements like the lethal secateurs, the menacing shovel and the possessed watering can, are to waiting to be tormented by Mr Error.Junkyard Percussion Vol2 – (Beyond the Tool Shed) by Midi Error is the highly anticipated second instalment of unsuspecting household utensils and odd shaped items from the tool shed, inappropriately used and abused to transform them into sonic weapons for audio fetishists worldwide.
Free Download DemoMore LoopmastersMore PercussionMastering service
The music genre for this product collection is mainly Percussion
Featuring a blistering collection of 1591 One Shot samples using implements made from Plastic, Metal, Glass, Wood all seriously abused and meticulously sampled in 24Bit quality.
If you are producing Percussion, here you can find also more Percussion presets and/or sample packs
At this point we should warn listeners that this sonic journey takes a sinister turn and dares to enter the Home, so be prepared to never look at your spoons in the same way as we sample the kitchen cutlery draw, the office stationary cupboard and the play room toy box for more incrediblly familiar yet somewhat out of context audio ear candy.

Additional production style(s) for this collection is/are Cinematic and FX
In Detail expect to find 715Mb of 24bit 44.1 KHz samples with 100 Loops and 1591 Single sounds including, 12 Cable Ties, 81 Glass, 21 Secateurs, 15 Shovel, 14 Soldering Iron, 14 Tape Measure, 23 Tubing, 26 Watering Can, 16 Wood Cutter, 8 Aerosol, 22 Airbrush, 30 Comb, 30 Floppy Disk, 30 Glass Bowl, 14 Key ring, 22 Knife, 16 Velcro, 28 Zip, 33 Drill, 14 Shaver, 66 Clock, 13 Hedge Trimmer, 13 Jigsaw, 8 Shredder, 17 Screwdriver, 284 Typewriter, 56 Chains, 39 Keys, 112 Metal, 22 Game box, 28 Pencil Case, 64 Ruler, 45 Scissors, 22 Paper Knife, 12 Stapler, 48 Tape, 21 Light Switch, 27 Pull Cords, 50 Wheel Switches, 20 Misc Switch, 24 Hacky Sack, 35 Kids Toys, 8 Shakes and Rattles, 22 Squishy Ball, 18 Toy Box, 100 Rex 2 Files, 10 Custom Kit sampler Patches and 67 categorised tool layouts for Kontakt, Halion, Exs24, Nnxt and Sfz soft samplers. The pack is also available in Apple Loops, Ableton Live pack and Reason Refill formats to purchase separately.

Also included in this collection Midi Error has also created 100 inspirational rhythmic beats using the single sounds in tempos ranging from 90 to 175 BPM

Want to try some samples first?
Create an account and download free samplepacks from Loopmasters here

Kitchen Sink NOT included!

Due to the extensive range of inanimate objects that have been harmed during the making of, this collection Midi Error has since had to move into temporary accommodation so if you wish to hear Junkyard Percussion Vol3 (Raiders of the Lost Pantry) it is imperative that you check out the demos and sample Junkyard Percussion Vol2 TODAY!
Finished your production?
We can do the Mixing and or Mastering here for you.