Loopmasters brings you this new library called Ableton Chord Rack – Blue Notes & Borrowed Chords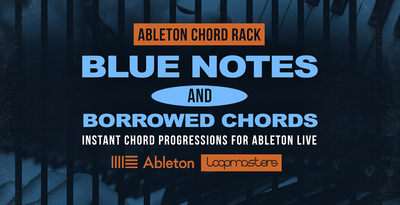 Blue Notes & Borrowed Chords is a complete standalone MIDI effect rack that expands upon the existing chord sets in our best-selling Deep House & Jazz Chords Ableton Chord Rack. The brand new set of chord progressions in Blue Notes & Borrowed chords utilise the Jazz and Blues technique of implementing blue notes in the chords.Blue Notes & Borrowed Chords is an exclusive Ableton Live 9+ MIDI effect rack from Loopmasters that has been specifically designed for producers hunting that perfect chord sequence. The instrument rack loads straight into your Ableton Live session and features fully mapped macros to change chord sets, add random note velocity, change the root note and add arpeggios.
Free Download DemoMore LoopmastersMore Deep HouseMastering service
The music genre for this product collection is mainly Deep House
As a result of the use of this technique in these sets, you will find that they are not always EXACTLY tuned. This sounds GREAT, and will give your music a classic Jazz/Blues influenced vibe. The early pioneers of House and Hip Hop sampled these types of chords, and now you've got tons of them at your fingertips ready to play straight or resample.
If you are producing Deep House, here you can find also more Deep House presets and/or sample packs
Initially played by a Jazz keyboardist, these are not your run of the mill chord progressions. Combinations that only a trained musician might create result in unique sounding chord combinations. The inclusion of "blue" or "worried" notes – a technique often employed in both Jazz and Blues – ads even more unique expression. (Blue notes are played at a slightly different pitch than standard. Typically the alteration is between a quarter tone & a semitone.)

Additional production style(s) for this collection is/are Jazz
Blue Notes & Borrowed Chords includes the same macro mappings and functionality as our Deep House & Jazz Chords rack. Have fun playing with note timing and velocity for even more unique expression, arpeggiate your chords and more.

For your convenience, we have listed the chords of each chord set. When a set includes the very heavy use of blue notes, we have included an asterisk before the first chord in the set. If you are curious about exactly what notes are being played, you can simply output the MIDI from the rack. This is a great way to develop complimentary bass lines or melodies for your chords.

Want to try some samples first?
Create an account and download free samplepacks from Loopmasters here
Finished your production?
We can do the Mixing and or Mastering here for you.