Industrial Strength brings you this new library called Tekno Tool Box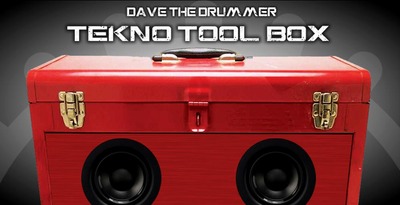 D.A.V.E. The Drummer has dug deep into his massive personal sound vault to share his inspiring custom loops and anologe sounds form his vast collection of synths he has collected over the past 15 years.Now available as an Ableton Live Production Template with full performance macro controls and more!!!
Free Download DemoMore Industrial StrengthMore Sound ArchivesMastering service
The music genre for this product collection is mainly Sound Archives
In brief, this pack contains over 1100 loops, 680 drum hits and a fantastic selection of 346 Fx sounds, a vast collection of synths, vocals, & one shots as well as Kontakt and ableton files for additional flexibility.
If you are producing Sound Archives, here you can find also more Sound Archives presets and/or sample packs
Now you have the chance to explore D.A.V.E. The Drummer's personal sound collection first hand.

Additional production style(s) for this collection is/are Techno and Club Archive
D.A.V.E. The Drummer has produced over 150 records on various labels world wide, his tracks are played by the hottest dj's like Carl Cox, Chris Liberator & Lenny Dee to name just a a few. He has been producing music for over 14 years and is regarded as a key force in the underground U.K. Techno scene.

With over 1.4GB of total Techno we feel this will soon become your go to sound collection to explore the possibilities of Techno music.

Want to try some samples first?
Create an account and download free samplepacks from Industrial Strength here

With a total of 2747 samples this pack is an essential tool for any producer making electronic music who is looking to beef up a production or just to add a bit of Techno flavor in your musical works.

This pack reflects D.A.V.E.' s vast knowledge of designing sounds for Techno music while unleashing his production skills all in one pack. Tool Box Volume 1 offers you a wide range of sounds to choose from such as Acid Techno, Minimal,Tribal, Sharenz, and of course straight up banging Techno that Dave The Drummer is known for.
Finished your production?
We can do the Mixing and or Mastering here for you.