CAPSUN ProAudio brings you this new library called Roseway Studio Sessions Vol.1 – Future Electronica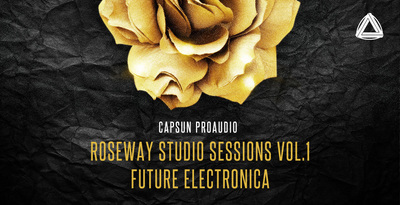 For the producer that loves to sample, chop, flip and experiment with audio, you need never worry about sample clearance with these sounds. Over 1GB of 24bit sound content including 30 Melodic Sessions and 5 Electronic Drum and Live Percussion Sessions. That's 209 full WAV loops in total plus we've added 68 Foley Percussion and Tuned One Shots captured during recording and from around the studio. This collection includes every individual full session mix as well as the separated and tracked out stems (e.g. guitar, keys, synth, vocals, percussion, etc.).Roseway Studio Sessions Vol.1 – Future Electronica is a collection of 35 original studio sessions that include the full royalty free mixes and individual stems of each sample; created in partnership by CAPSUN ProAudio and composer, sound designer and multi-instrumentalist George Baldwin.
Free Download DemoMore CAPSUN ProAudioMore ElectronicaMastering service
The music genre for this product collection is mainly Electronica
George Baldwin composes for a range of music production houses, sample libraries and his compositions are frequently heard on prime time television. He is also a noted session musician and has made many live and studio appearances on well-known records.
If you are producing Electronica, here you can find also more Electronica presets and/or sample packs
The Future Electonica concept means these sounds are perfect for Hip-Hop, Chill Trap, Future Bass, Rap, Future Beats, Drum & Bass and much more. We're talking haunting harps, rich analogue synths, classic drum machines, live keys and stringed instruments. Live bass and guitars processed through a multitude of amps and FX pedals, Foley recordings and experimental sound design. George's signature vocals shine through and include stunning lead hooks, harmonies and choral stacks.

Additional production style(s) for this collection is/are Downtempo
Live played instruments used include bass guitar, chapman stick, double bass (played as either an upright or cello), electric guitar, acoustic guitar, hang drum, live drum kits, various world percussion, vocals, cornet, trumpet and multiple keyboards.

Delve into George's studio gear list below and find out why we are so excited about Roseway Studio Sessions Vol.1 – Future Electronica. This level of performance, live recording and experimental sound design simply can't be replicated and makes Volume 1 in this series a must have for those looking for instant inspiration.

Want to try some samples first?
Create an account and download free samplepacks from CAPSUN ProAudio here

Dive into Roseway Studio Sessions Vol.1 – Future Electronica and discover a huge 1GB library of stunning original 24bit royalty free audio that can be chopped, sampled or layered into your production right away.

Studio hardware used includes D.W Fearn Preamp, Neve 1073 Preamp and eq, Ampex Tape Machine, Manley Stereo Limiter, DCL200 Tube Compressor, API Channel Strips and Pultec EQ. Add to that a dream list of high end software plugins and even George's own custom Reaktor patches and his own original hand build plugin Gargantuan!
Finished your production?
We can do the Mixing and or Mastering here for you.