Black Octopus brings you this new library called Mutate: Harmor Resampling Tools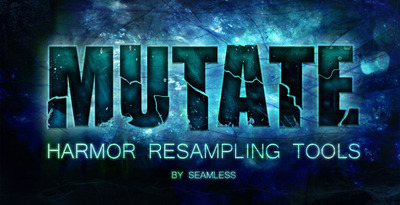 Resampling is the process of taking some recorded audio and loading it back into a sampler or resynthesis engine, adding a few fx or minor tweaks, re-recording the audio again – rinse and repeat. This process allows for some very interesting tones not possible with regular synthesis methods. Resampling can be heard often in many drum and bass and dubstep producers tracks, great examples of resampling can be heard in the legendary electronic group Noisia.Black Octopus Sound presents a selection of tools designed specifically for resampling – the first of its kind! Created to work with the Harmor additive synthesizer, this selection of tools is designed to turn wimpy lifeless synth sounds into beast-like face eating growls and robot dinosaur snarls.
Free Download DemoMore Black OctopusMore Sound ArchivesMastering service
The music genre for this product collection is mainly Sound Archives
Channel Presets > 9 Harmor presets which range from massive detuned reeses to crunchy distorted basses. 2 Sytrus presets – one classic reese and one utilizing FM synthesis to obtain monster like tones. As a bonus there is also a Mixer FX track preset for FL Studio to beef up your sounds, a love filter preset for some extra modulation, one massive Harmor riser, a demo FLP, and an empty resampling template FLP to get you started.
If you are producing Sound Archives, here you can find also more Sound Archives presets and/or sample packs
The sounds are divided into 2 categories:

Additional production style(s) for this collection is/are Drum and Bass and Dubstep
In total there are 38 presets. Please note Image-line Harmor is required for most of this pack. Sytrus is also used for 2 presets.

Resampling presets > The real fun of this pack, 23 Harmor presets to drag and drop audio in. They are skillfully crafted with precision to add just the right amount of subtle transformation to your sound. They are also chained together in groups (for example Bitten B1, Bitten B2, Bitten B3) to eliminate the guesswork of what presets sound good together. There are no rules however – mix and match and come up with your own favorite combinations.

Want to try some samples first?
Create an account and download free samplepacks from Black Octopus here

PLEASE NOTE: Harmor Version 1.2 is recommended This pack can be used inside your DAW with Harmor as a VSTi plugin

* If you are using FL Studio we recommend putting the Mutate folder somewhere in your sample file browser so you can easily drag and drop them. If you are using Harmor as a VST in another sequencer we recommend you copy the Harmor presets into the Harmor presets folder.
Finished your production?
We can do the Mixing and or Mastering here for you.