Bass Boutique brings you this new library called Deekline & Ed Solo Presents the Sound of Hotcakes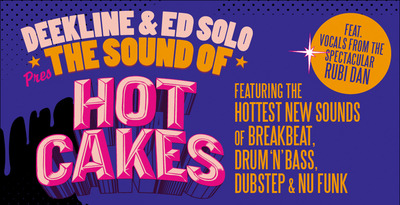 Weighing in at more than half a gigabyte of samples, comprising 271 individual soundbytes, the Hot Cakes pack features 18 driving badman vocal lines, shouts and toasts, a staggering 52 of the ruffest, rowdiest, key-assigned b-lines around, a gargantuan 133 drum breaks, loops and percussion grooves (plus an additional seven 140bpm dubstep grooves) arranged in easy-to-use sets, plus 37 searing synth leadlines, hooks, stabs and Dutch style effects.Mighty maestros Deekline & Ed Solo have spent hundreds of hours in the studio cooking up the finest collection of party-shocking, block-rocking sounds for this booming Hot Cakes sample pack. Whether you're producing beats on a breakbeat, drum 'n' bass, dubstep or nufunk tip, this firing producer's selection of booty-shaking samples will ensure your tunes emerge from the pressure cooker of the studio onto the club dancefloor with optimum flavour. Vocal pressure comes from the immense Rubi Dan, lighting up the place with lick after lick of ragga-fuelled freshness.
Free Download DemoMore Bass BoutiqueMore BreaksMastering service
The music genre for this product collection is mainly Breaks
As well as the world-renowned Hot Cakes label, Deekline & Ed Solo are the main men behind labels such as Sludge, Rat Records, Jungle Cakes and Booty Farm, turning out the kind of no-nonsense party-starting material that DJs of all genres reach for every time the floor looks like it needs a good spanking. Grab yourself a bit of Hot Cakes flavour and add something seriously tasty to your next production.
If you are producing Breaks, here you can find also more Breaks presets and/or sample packs
Samples range in bpm from 110bpm, through 130bpm and all the way up to a jungle-friendly 175bpm, ensuring that all musical bases are covered. Apple Loops, Reason Refill and Rex versions are available to purchase separately.

Additional production style(s) for this collection is/are Drum and Bass and Dubstep

Format Options Explained:

Want to try some samples first?
Create an account and download free samplepacks from Bass Boutique here
Finished your production?
We can do the Mixing and or Mastering here for you.