by Softube
More Softube
More Complete Collection plugins
Mastering service
This is an upgrade for existing Trident A-Range owners. You will be asked asked to provide your existing plugin's license information after purchase for the upgrade to be processed.
Compose. Mix. Produce.
Create drum machine and synth tracks. Mix vocals and acoustic guitars. Record electric guitars and finalize the mix. Volume 1 is a plug-in bundle designed to solve these and a number of other crucial music production tasks. It includes sixteen world-class plug-ins from the best brands in the industry.
Volume 1 starts with you and your production needs. It was conceived by identifying the eleven most common situations in modern-day music production, and then adding the tools to solve those.
Create music using products from some of the audio world's most renowned brands: Summit Audio, Trident Audio Developments, Drawmer Electronics, Doepfer Musikelektronik and Fix Audio Designs.
Key Contents
Sixteen Plug-ins Include:
Bass Amp Room
Drawmer S73 Intelligent Master Processor
FET Compressor
Fix Flanger and Doubler
Heartbeat
Modular
Saturation Knob
Summit Audio Grand Channel
Summit Audio EQF-100 Full Range Equalizer
Summit Audio TLA-100A Compressor
Trident A-Range
TSAR-1 Reverb
TSAR-1R Reverb
Tube Delay
Vintage Amp Room
Sixteen Plug-ins Include
Bass Amp Room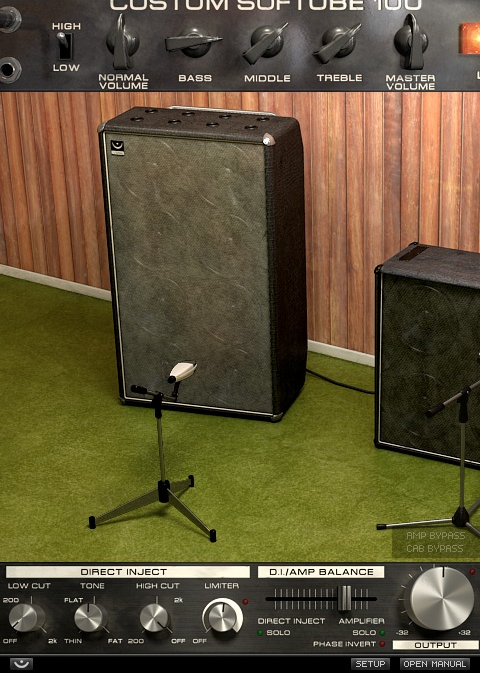 Bass Amp Room was designed to handle all your bass amp needs, from dirty rock to modern clean. It consists of a model of a bass amplifier, three distinctive speaker cabinets with click-and-drag mics, and a blendable DI section with tone controls and a limiter.
Bass Amp Room has got everything you need to create a unique signature sound in no time. It's well thought out, and the high quality building blocks will help you produce a huge range of sounds. The Bass Amp Room is all about getting a sound you know you can trust, and getting it quickly.
Although it was originally designed as a guitar amp, the 70's amp that has been modeled has proven to be an excellent choice for bass players. A thick and solid preamp distortion without any fizziness lets you crank it up without losing the low end. The power amp has a more traditional power amp distortion (controlled by the Master Volume knob), which at extreme settings will give you all the dirt you can handle. The High/Low switch wasn't a part of the original amp, but was added to give you a cleaner and fatter sound when necessary.
There are three different cabinets in Bass Amp Room. The 8 x 10″ is an industry standard for fat and solid bass tones with lots of low end and lots of definition. The 4 x 12″ may be a good choice for rock sounds with its focused and hard sound. And lastly, while an open back 1 x 12″ may not be the first cabinet choice that springs to mind for bass, this is something that works extremely well in the studio.
Many engineers like to blend in some DI signal from the bass in the mix, and to facilitate this we have added a DI section that does precisely that, and more – we also put in three tone controls and a limiter.
Features:
Authentic amp and cabinet modeling
One amplifier and three versatile and good-sounding cabinets
Flexible and continuous click-and-drag mic positioning
Slider control to blend in the DI sound from within the plug-in
Tone control, Low and High cut filters plus limiter in the DI section
Learn more about Bass Amp Room.
Please note: The above link is in reference to Bass Amp Room/Vintage Amp Room only and does not include Metal Amp Room.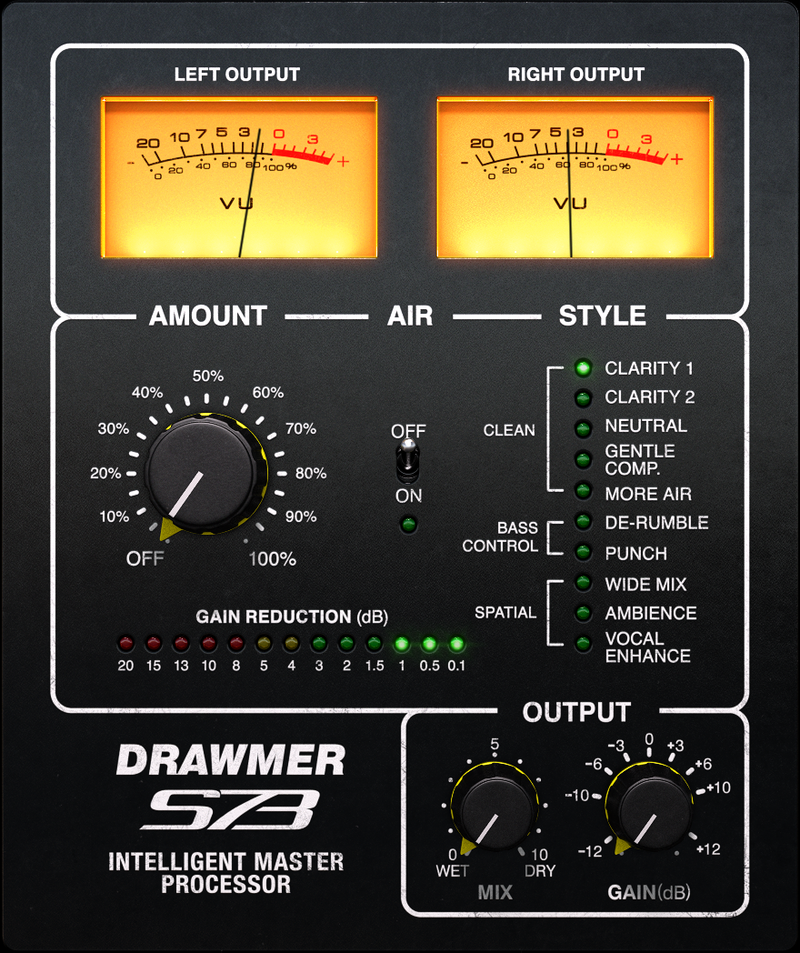 For the mastering engineer, a multi-band compressor is a powerful tool. But as Spiderman's uncle Ben famously says: with great power comes great responsibility. A multi-band compressor that is not used diligently may create more problems than it solves. This is why Softube created Drawmer S73 Intelligent Master Processor (IMP).
Multiband Compression For Your Mix
Drawmer S73 features an enhanced multi-band compressor sound design, fine-tuned to improve your mix with a minimum of tweaking. The S73 does most of the job for you by making the choices a mastering engineer would make. Simply use the Style parameter to switch between ready made mastering processing techniques to quickly find the sound that suits your mix the best.
Clarity and Definition
Under the hood, the S73 is based on technology created by Drawmer for the 1973 Three Band FET Stereo Compressor. This is an award winning multi-band analog compressor design famous for its precision and flexibility. Softube has carefully modeled all the characteristics of the original analog hardware, and have taken the concept a step further by adding mastering sound design to create the Drawmer S73 IMP. The unit offers the perfect way to balance and shape your mix, and get great analog sound in no time.
Features:
Built-in mastering processing techniques
Lifts your mixes to the next level
Great Drawmer compressor analog sound
Parallel compression
Learn more about Drawmer S73 Intelligent Master Processor.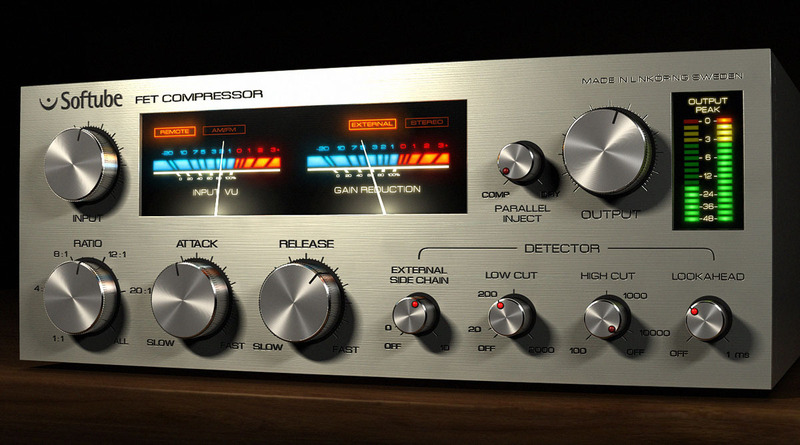 The FET Compressor is an impressively faithful modeling of one of the most iconic compressors of all time. FET Compressor is loved for its aggressiveness and its tendency to add some tasty distortion to the sound source when driven hard. This compressor loves to be slammed and abused. But few things are so good they can't be improved, so we added a couple of nice features that makes it even more flexible than the hardware original.
In general, the FET Compressor can be used for deeper gain reduction than you would normally use with any compressor. The reason is that even at extreme settings, the FET Compressor shows no trace of the pinched sound many other compressors make when you push them hard. This ability for strict gain control is not least useful on lead vocal tracks that need to be kept in the listener's face. The distortion also adds a nice grit to the voice, highly useable in rock mixes but in no way limited to that.
Another common use for the FET is in drum mixing, where many engineers use it on room microphones, overheads or across the entire drum buss. Used this way, the FET Compressor has a way of bringing out a large, explosive sound in the Led Zeppelin vein. This is also an application where parallel compression is a useful technique, so we added the Parallel Inject control to facilitate this. To reduce kick drum pumping or let the bass guitar's low end bloom, use the side chain filter.
But there are still many more uses for the FET. Bass, acoustic guitars, pianos – bring out some edge or use the compressor's fastest attack setting to round off any transients.
Features:
Sweet input and output stage distortion.
Super fast attack time (just like the original)
Lookahead (in case you don't find the original's attack time fast enough)
Modeled "All buttons in" mode
Continuous ratio (even between 20:1 and ALL) – but if you want the fixed ratios of the original, just click the ratio labels around the knob.
Parallel compression.
Detector low and high cut filters
External side chain
Stereo with synchronized gain reduction
Very CPU friendly
Meticiously modeled analog compressor. Each single stage of the analog unit has been modeled separately to achieve the exact sound and behavior of the original analog unit
Learn more about FET Compressor.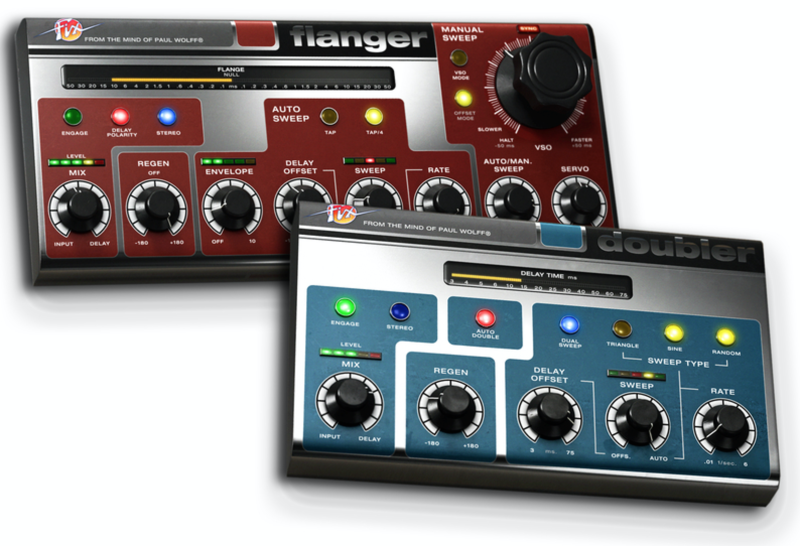 From the mind of legendary audio equipment designer Paul Wolff comes the new Fix Flanger and Fix Doubler. They take the legacy and sound of classic flanging and vocal doubling of the 1960s, but with all the benefits of the digital world.
In 1979, Paul Wolff formalized a vision which was turned into an exclusive limited edition hardware, that became loved among musicians and sound engineers. In 2015, the Fix Flanger and Doubler is the reincarnation of this vision – a plug-in package that handles hands-on flanging with unique stereo widening methods, as well as vocal doubling with lush chorus and rich textures.
Classic Flanging Reimagined
The Fix Flanger is versatility personified—this flanger is capable of both classic guitar pedal style flanging with a automatically swept flange as well as direct interaction in the manual mode. A VSO mode features unprecedented hands-on control with emulated servo motor bounce and true cross zero flanging, just like a tape machine. Added features such as tap tempo sweep, unique stereo widening methods and selectable delay polarity makes the Fix Flanger the swiss army knife of flangers.
Doubling Made Simple
The Fix Doubler delivers texture and extraordinary richness to vocals and polyphonic instruments. The algorithms of the Fix Flanger, combined with a streamlined interface and Paul Wolff's unique Auto Double algorithm, makes it easier than ever to get lush chorus and rich layers to your vocal track. With Auto Double, you can get smooth doubling without flanging at delays as low as 3 ms, which no one has ever been able to do before.
Features
Fix Flanger delivers the sound of classic flanging, with extreme control and flexibility
Unprecedented hands-on VSO flange control, with servo motor bounce emulation
Fix Doubler provides lush chorus and rich textures to your vocals
'Auto Double' uses a unique method of accurate phase-cancellation to make a natural sounding doubler effect
No USB iLok key required
Learn more about Fix Flanger and Doubler.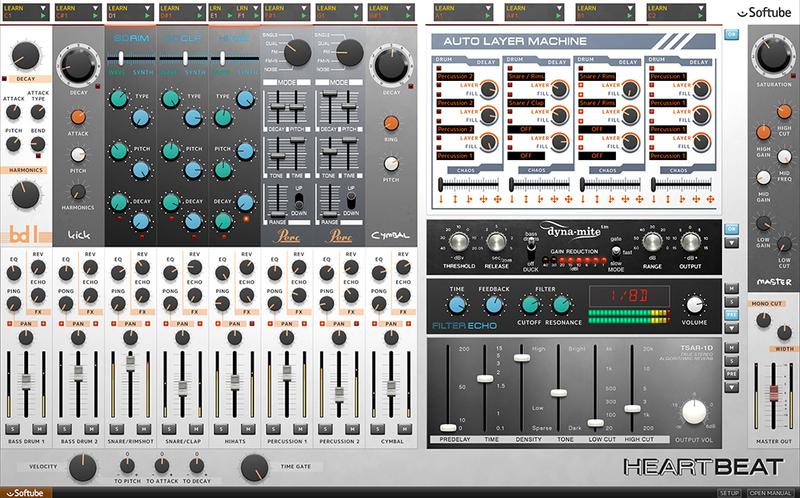 Classic drum synthesis is back with a vengeance! Flexible and tweakable—Heartbeat is your source for familiar, yet unique, drum machine sounds. Use the built-in effects and the innovative Auto Layer Machine to take your beats to unexpected places. Or use Heartbeat's instrument and EQ modules in Modular.
Heartbeat is likely to cause severe palpitations. It is the drum synth of your dreams, combining modeled analog synthesis of yesteryear with forward-thinking features and flexibility. The modeled analog sound engine, the Auto Layer Machine and the included top-of-the-line effects turns Heartbeat into a killer package for your beats.
The Synthesis Engine
While Heartbeat draws inspiration from the best analog drum synths from the 1980s, it does not emulate any existing drum machine. The sound mostly originates from Softube's own modeled analog synthesis, which has been augmented with carefully selected waveforms.
The core of Heartbeat consists of the eight instrument channels. You will find two different bass drum channels, which can be as punchy and deep as you want them, but are also perfectly capable of producing snappy and hard hitting woody textures. The two dedicated snare drum channels have six parameters each which allows you to achieve anything from edgy rimshots, soft and whispery snare rolls to machine-like claps.
The percussion channels are identical and can be used to model anything from 80s style synthetic toms to cowbells and noise drops. And just like the other channels, the hihat and cymbal channels offer flexible synthesis engines – tweak to your heart's desire!
The Effects
In order to make Heartbeat your one stop shop for beat programming, we added a fully featured effects section. It includes slightly adapted versions of our beloved model of Valley People Dyna-mite and one of our top sellers of all time, the TSAR-1 Reverb. The Dyna-mite is a dynamic shaping Swiss army knife with a serious attitude. Limiting, compression, gating, sidechained ducking – Dyna-mite handles it all. And TSAR-1 is simply the most gorgeous plug-in reverb ever created.
The all new Filter Echo is a filtered delay effect with adjustable Cut Off and Resonance parameters. And finally, the output saturation can go from juicy to gritty and is not taken from any existing Softube product.
Each of the eight channels has a dedicated mixer channel with controls for volume, pan, ping-pong (auto panning), EQ (adapted specifically for each instrument) and send levels to the reverb and delay effects.
Features:
Eight channels of drum sounds, mostly based on modeled analog synthesis
Mixer with volume, EQ, effect sends and panning for each channel
Four channel Auto Layer Machine for layering sounds or triggering beat patterns
Chaos slider adds randomness to the behavior of Auto Layer Machine
Learn more about Heartbeat.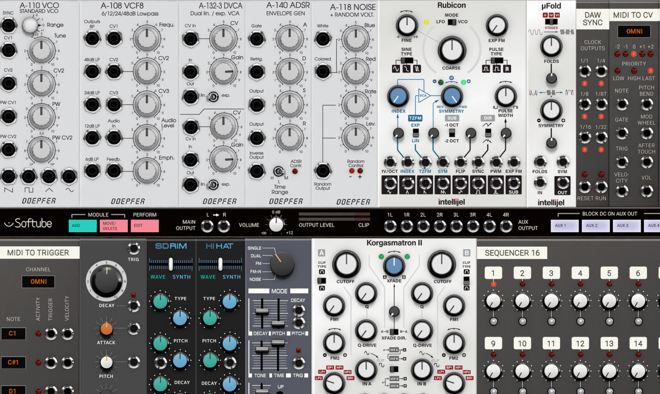 Created in close collaboration with Doepfer, Softube Modular gives you both the sound, flexibility and expandability of a true analog modular synthesizer. But Softube Modular is more than just another virtual synthesizer plug-in – it's an entirely new modular synth standard.
Infinitely Expandable
As a Modular owner, the basic system gives you a great toolkit to start out with. It includes six modeled Doepfer modules and over 20 utility modules. But there is much more to discover. Additional modules from quality Eurorack vendors – starting with a range of units from cutting-edge manufacturer Intellijel – are available for separate purchase. More modules will continuously be made available. Owners of Softube's drum synth Heartbeat can add its instrument and EQ modules to Modular and combine them with any other modules. Softube's award-winning engineering team have modeled each analog module, component by component, and the resulting plug-ins are sonically indistinguishable from their hardware counterparts.
Welcome Experts & Beginners
Experienced Eurorack synth users will be right at home from the start. Modular's workflow is very close to the use of physical Eurorack modular synths. Add modules, connect them using virtual patch cords, adjust their knobs and switches to your heart's desire. Get MIDI connectivity with the MIDI To CV/Gate Converter and add any of the included step sequencers – unless you prefer using your DAW's built-in sequencer, of course.
To beginners, a modular synthesizer can be daunting at first. But Modular offers a wide range of expertly designed presets, immediately available to be put to use in your music. When you are ready to learn more about patching a Eurorack synth, the manual offers step by step patching tutorials that go hand in hand with the included tutorial presets.
Both experts and beginners will enjoy the included Performance modules. These give the user a limited set of knobs and buttons that can be freely assigned to control any parameter on any module in the current patch – making creative tweaking on the fly super easy and accessible for inspired studio production and live performances.
Features:
Modular is a cross-platform modular synthesizer plug-in standard, which features authorized emulations of modules from well known hardware Eurorack brands
True dynamic circuit-emulation—looks, functions and sounds like its hardware counterparts
Basic system contains six Doepfer modules (A-110-1 VCO, A-108 VCF, A-132-3 Dual VCA, A-140 ADSR, A-118 Noise/Random, A-147 VCLFO)
Basic system also contains over 20 Utility modules (such as MIDI to CV/gate, mixers, slew, sample & hold, switches, multiples, delay, offset, sequencers, clock dividers, logic and signal tools, as well as a Polyphonic MIDI to CV/gate module).
Additional authorized emulations from Intellijel is available as add-ons (uFold II, Korgasmatron II, Rubicon). Many more modules from other quality hardware Eurorack vendors to be released
Learn more about Modular.
Saturation Knob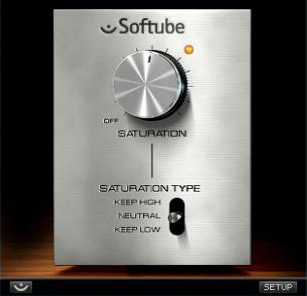 Saturation Knob is a modeled output distortion that can be used anywhere you need some grit. Use it to fatten up bass lines, add some harmonics and shimmer to vocals, or simply destroy your drum loop.
The three modes, Keep High, Neutral and Keep Low give you three kinds of characters of distortion. If you want to squash a drum loop but keep the bass drum fairly intact, you can for example use the Keep Low mode.
The Summit Audio EQF-100 Full Range Passive Tube Equalizer really sets the standard for all passive equalizer designs. It is a highly versatile and sweet sounding equalizer that will solve most of the tonality issues you may experience in a mix. The EQF-100 is equally suitable for separate tracks as across subgroups or the entire stereo buss.
Flexibility and smoothness are the key features of this tube driven passive equalizer. Here's finally an equalizer you can use in your DAW to boost frequencies and not limit yourself to cutting. Four fully parametric bands of equalization plus low and high cut filters with three selectable cutoff frequencies each make the EQF-100 a go-to equalizer for any sound or instrument in your mix. A mix that no doubt will sound warmer and fatter with the help of the EQF-100 and its unique blend of tube and solid state technology. If you want more edge from your EQ, just drive the output meter into the red and you'll experience a woody and thick saturation coming from the output stage.
Features
Smooth sound and flexible operation
Modelled output stage distortion
Four fully parametric bands of equalisation with fixed frequency bands
High and low filters can be switched from bell to shelf
Three-position low and high cut filters
Each and every component carefully modelled
Learn more about Summit Audio EQF-100 Full Range Equalizer.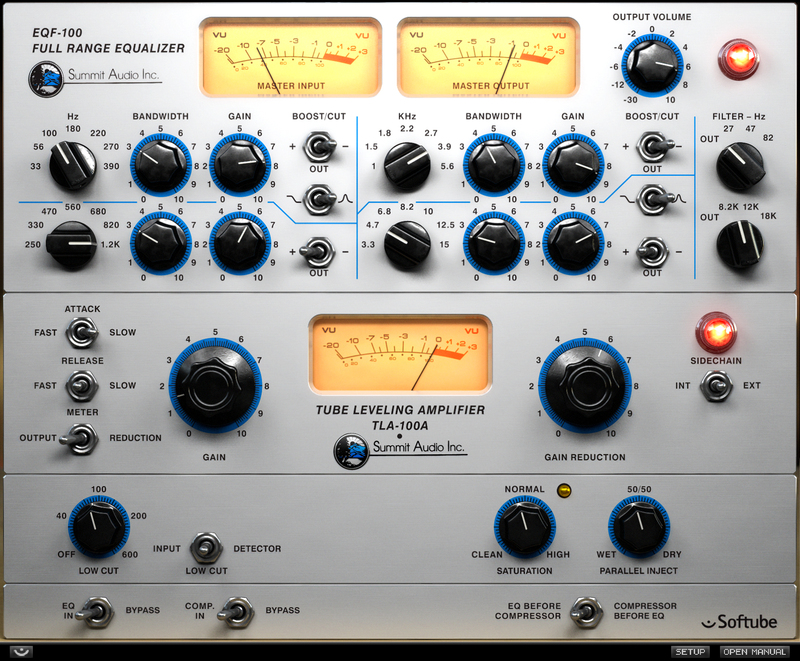 Combining the smooth operating EQF-100 parametric passive equalizer with the mild but authoritative TLA-100A compressor, Summit Audio Grand Channel is a highly versatile channel strip that will cover a large part of your mixing needs.
The Grand Channel combines the warm and smooth tone sculpting Summit Audio EQF-100 Full Range Equalizer with the rich sounding and dead-easy-to-use Summit Audio TLA-100A Compressor. Having the two combined in a single plug-in makes adjustments easier, as you will often find that the compressor affects the equalizer and vice versa. By default, the sound reaches the equalizer before the compressor, but you can easily reverse the order with a single switch.
When the EQF-100 and TLA-100A were designed, Summit Audio made sure to combine the finest of what vintage tube designs had to offer with a modern sense of how these units should stand the test of time. The result was remarkable, and today you can experience the Summit Audio grandeur in digital form, just reach for the Grand Channel! As a modern addition to the classic TLA-100A, the plug-in also includes Parallel Compression, Saturation Control and Low Cut Filtering on input or detector.
Features
Flexible and easy to use with huge sonic range
Individual bypass for each of the two units saves CPU power
Change the order of the equalizer and compressor with a single switch
Each and every component carefully modeled
Extremely analog behavior of frequencies, phase, distortion, attack, release, etc
Learn more about Summit Audio Grand Channel.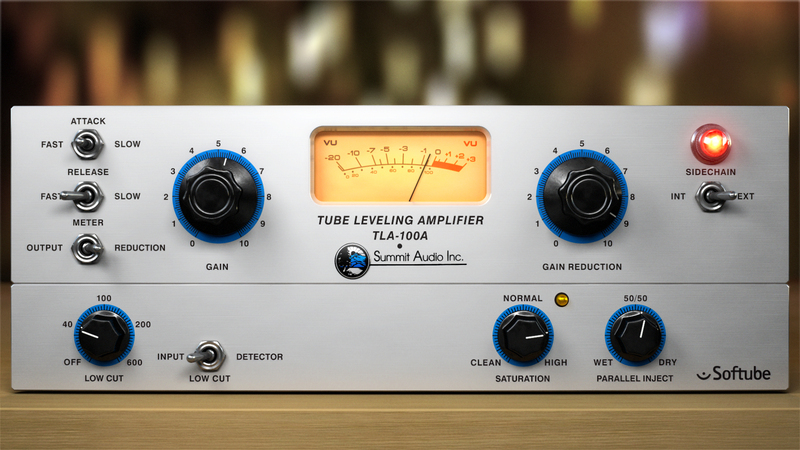 This classic compressor is all about gentle and natural sounding gain reduction. It effortlessly keeps your material's dynamics controlled without ever strangling the sound. Everything you put into the TLA-100A comes out the other end big and compact sounding.
The Summit Audio TLA-100A works in a program dependent manner, meaning it does a lot of the thinking for you. It's tremendously easy to use and basically impossible to make it sound bad. It will however give you some soft and warm distortion if you drive it really hard. For ease of use, Softubes TLA-100A plug-in has a Saturation knob that the original unit lacks. This lets you blend in just the right amount of distortion to your signal.
The TLA-100A shows the same basic behavior on any type of material. Its transparency and strong but gentle grab of the sound source makes it a popular choice for placing vocals and bass just where they need to be in the mix. The TLA-100A is also well suited for tasks like softening a spiky acoustic guitar that demands too much attention, or providing some 'glue' on a drum buss or a full mix.
Features
Controls your audio dynamics with mild authority
Easy to use
Built-in parallel compression and detector filtering (Low Cut filter switchable to signal input)
Each and every component carefully modeled
Modeled output distortion, easily controlled with the Saturation knob
Extremely analog behavior of frequencies, phase, distortion, attack, release, etc
Softube makes the only Summit Audio plug-ins
Learn more about Summit Audio TLA-100A Compressor.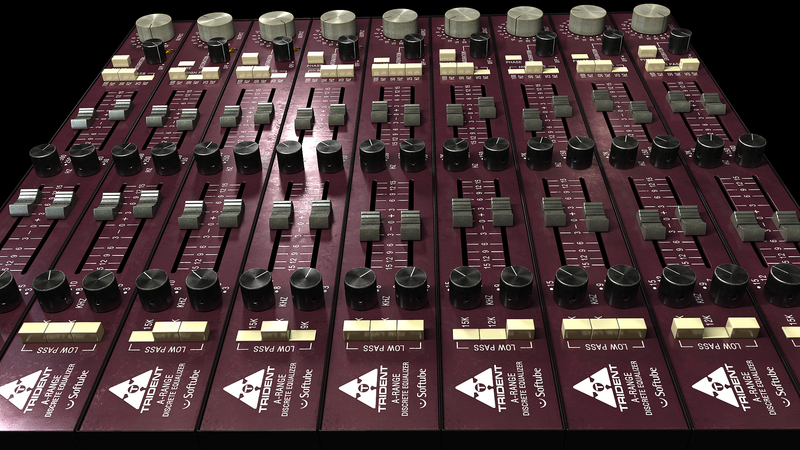 The Trident A-Range equalizer is a legendary piece of equipment. As only thirteen A-Range consoles were ever made, it remains a holy grail for sound engineers and producers around the world that hope to create works of art equal to those that were originally recorded on the A-Range – David Bowie's Ziggy Stardust, Queen, Elton John, the list goes on…
It is sometimes said that one of the disadvantages of digital mixing and recording is that the happy accidents one could experience with analog gear just don't happen in the DAW. People saying that clearly haven't tried Softube's Trident A-Range equalizer.
Because the Trident A-Range is not only a tremendously nice sounding and highly characteristic equalizer. Its four frequency bands also have a way of integrating in sometimes rather unpredictable ways. More often than not you will find that the equalizer ends up giving you something even better than you may have expected when you made a certain setting. In this sense, the Trident A-Range is more of a musical instrument than a strictly scientific tool. We think this is one of the major reasons it has been used on so many great classic rock albums and why it's still one of the most coveted pieces of audio equipment around.
Only thirteen A-Range consoles were ever built, and the Softube plug-in version is a very exact model of channel 15 of the Trident A-Range at Sweet Silence Studio 'B' in Denmark. This is producer Flemming Rasmussen's favorite channel for recording lead vocals. Flemming also used it for the solo and rhythm guitars on Metallica's "Ride The Lightning" and "Master of Puppets", as well as Ritchie B
Want to try it first?
Create an account and download free SoftubeSoftube Volume 1 Upgrade from Trident A-Range demo here