Sound Effects Bible brings you this new library called Household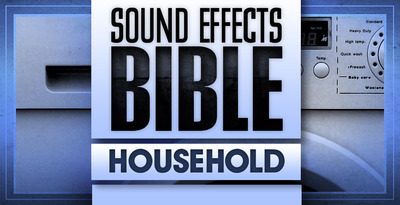 The Sound Effects Bible collection is a special series by author and sound designer Ric Viers and his team at the Detroit Chop Shop. Ric Viers has worked in the film and television industry for more than fifteen years. His location sound credits include hundreds of productions for nearly every major television network, Universal Studios, Dateline, Good Morning America, Disney, and many others. Known as the "Rock and Roll Professor of Sound", Viers has hosted several video series like "Rode University", "Rode Rage" and "The Detroit Chop Shop Video Diaries".A general collection of items and appliances found around the house.
Free Download DemoMore Sound Effects BibleMore FXMastering service
The music genre for this product collection is mainly FX
If you are producing FX, here you can find also more FX presets and/or sample packs
Viers' sound design work has been used in major motion pictures, television shows, radio programs, and video games. In 2007, Viers launched his own label, Blastwave FX, to celebrate the release of his 100th sound effects library. Viers is the author of The Sound Effects Bible and is considered to be the world's largest independent provider of sound effects, with over 250,000 sounds and more than 600 sound effects libraries to his credit. He has produced sound libraries for numerous publishers, including Adobe, Apple, Blastwave FX, Sony, Sound Ideas, and The Hollywood Edge.

Additional production style(s) for this collection is/are Cinematic

Want to try some samples first?
Create an account and download free samplepacks from Sound Effects Bible here
Finished your production?
We can do the Mixing and or Mastering here for you.