Soul Rush Records brings you this new library called Drum & Bass Vocal Hooks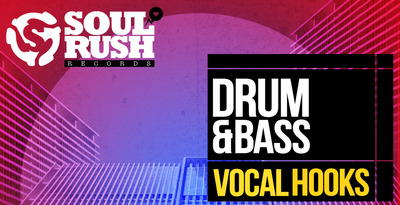 Focussing as always on strong, usable hooks that will give your tracks a catchy edge in the clubs, online and on radio.Soul Rush is back with another pack of awesome vocal hooks, this time hitting Drum And Bass square in the kisser. 88 individual hooks, 4 different vocalists, 2 keys and all at 174bpm.
Free Download DemoMore Soul Rush RecordsMore VocalsMastering service
The music genre for this product collection is mainly Vocals
The vocals are ready to use straight out of the pack and only require your choice of effects to shine through the mix. You can get to work on them even harder and chop them about, pitch them up and down and create something totally new out of them.
If you are producing Vocals, here you can find also more Vocals presets and/or sample packs
For those looking to match the vocal styles of artists like Sub Focus, DJ Fresh and Rudimental, this pack is just what you have been looking for. All vocals aimed to give energy, soul and class to your tracks wether is a stripped back neuro roller or a monstrous synth epic.

Additional production style(s) for this collection is/are Drum and Bass

As ever all vocals are royalty free and can be used in any production either commercial or non-commercial. Its always a joy to hear what people do with the vocals so please send them our way.

Want to try some samples first?
Create an account and download free samplepacks from Soul Rush Records here
Finished your production?
We can do the Mixing and or Mastering here for you.