Shamanstems brings you this new library called Soulful Beach House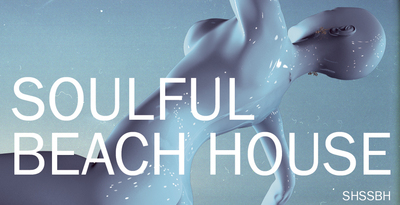 Following the footsteps of their Rooftop House pack, released a few years back, which ignited the creativity of bedroom producers and major label artists alike, allowing their loops and sounds to reach an audience in the hundreds of millions, Soulful Beach House is now up for grabs, providing infinite inspiration for aspiring and well-established artists.ShamanStems are back with another summertime hit collection, packed with crisp, cutting edge drums, live percussion, soulful keys, warm basslines and soothing pads.
Free Download DemoMore ShamanstemsMore HouseMastering service
The music genre for this product collection is mainly House
96 Melodic loops are split into 19 construction kit folders, each one containing full mix and separate parts, including warm analogue and live slap bass, dusty rhodes, FM e-pianos and keys, dreamy analogue pads and soulful chords, plus the according MIDI file for each loop.
If you are producing House, here you can find also more House presets and/or sample packs
Inside you will discover a total of 190 laid-back and vivid Drumloops: 41 Full, 41 Strip, 39 Top, 39 Hihats, 30 Perc plus extra 44 Top Loops, recorded at 115, 118 and 120 BPMs, rigorously EQ-ed and processed to provide a solid back-bone for your hit track.

Additional production style(s) for this collection is/are Chillout

Organic percussion plays a major part in nailing that beach house sound , therefore 63 live and sequenced bongos, darabanas, cabasas, ganzas, congas, agogos, tambourines , cowbells, shakers and claves are present to satisfy your percussive needs. Some percussive instruments can be used as sound effects as well, you will find them played in outlandish ways in the Sound FX section, along with seashore field recordings, digital birds, reverbed xaphoons, snaps and cymbals, 50 in total. To top things off, 371 drum and percussion hits are provided as well: 221 live, synthesized or layered percussion, 40 kicks, 58 hihats, 18 claps, 22 snares and 12 toms.

Want to try some samples first?
Create an account and download free samplepacks from Shamanstems here
Finished your production?
We can do the Mixing and or Mastering here for you.