Resonance Sound brings you this new library called Audio Boutique Tribal Elements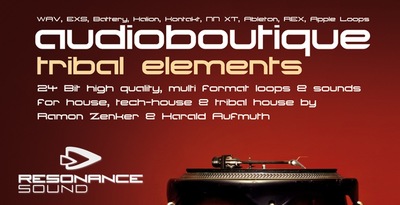 After the successful debut of the "Audio Boutique" sample series, also distributed by Resonance Sound, producer dinosaur Ramon Zenker and Harald Aufmuth attend to a subject that will get producers of modern House music highly excited: "Tribal Elements". Regardless of which club you enter or which shop you visit to search for the hottest new tunes, both the underground and the masses agree upon that Tribal House grooves are in demand like never before and cause euphoria on dancefloors worldwide.NOW AT 50% REDUCTION IN PRICE!!
Free Download DemoMore Resonance SoundMore Sound ArchivesMastering service
The music genre for this product collection is mainly Sound Archives
Latest since his worldwide club & chart hit "Samba De Janeiro", Ramon Zenker is known for not only having an affinity, but the right touch when it comes to combine electronic beats with South-american elements. Though "Tribal Elements" also finds perfect use in underground productions.
If you are producing Sound Archives, here you can find also more Sound Archives presets and/or sample packs
The core of this multi-format Sample Pack is an extensive loop section that leaves no wishes and sounds unfulfilled and furthermore offers a multitude of live played samples. For those who want maximum flexibility, all sounds of the Live loops are also made available individually. In addition there's a grand collection of organic percussions, a drum section with appropriate snares, claps, cymbals and bassdrums, adequate effects plus a vocal section with original Brazilian vocals & shouts. In short, "Tribal Elements" provides everything you need with just one click to play among the leaders of the Tribal, Tech and Latin House league.

Additional production style(s) for this collection is/are Percussion, Club Archive, and Tribal House

Want to try some samples first?
Create an account and download free samplepacks from Resonance Sound here
Finished your production?
We can do the Mixing and or Mastering here for you.