Rankin Audio brings you this new library called Synthwave Dreams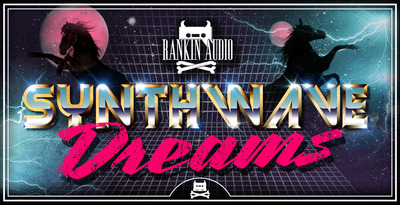 Rankin Audio has taken a leap into the wonderful world of Synthwave electro with this epic, synthetic journey through space and time. Sizzling arpeggiators and lush rippling chords dance over the top of pumping synth drums making you want to cruise through the midnight air, your bouffant hairdo blowing freely in the wind.It's the 1980s, you have a mullet and white suit jacket equipped with shoulder pads and the sleeves rolled up. You step out of your Lamborghini into the hot night air, stub your cig out on the pavement and breathe in the magic of it all. This is the Synthwave Dream.
Free Download DemoMore Rankin AudioMore SynthwaveMastering service
The music genre for this product collection is mainly Synthwave
The Synthwave Dream is here and it's very very real!
If you are producing Synthwave, here you can find also more Synthwave presets and/or sample packs
We've compiled a huge range of musical elements that slot together like a synthy jigsaw puzzle and can be used to create synthpop anthems as well as be applied to other genres for some crossover madness. Everything you need to fashion a track from the ground up is on hand and tweaked to perfection. Layer up the melody loops, dial in some pads and get the drums and bass pounding away in the low end until your studio is full of babes in bikinis with red lipstick and hair bigger than you ever thought possible. All the loops are tagged with their musical key and tempo for ease of use and all slide together like a beautiful 80s charm.

Additional production style(s) for this collection is/are Cinematic

Want to try some samples first?
Create an account and download free samplepacks from Rankin Audio here
Finished your production?
We can do the Mixing and or Mastering here for you.