Push Button Bang brings you this new library called Twist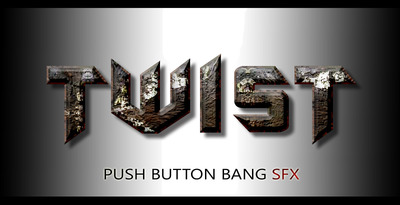 Twist supplies you with a premium quality, 24-bit armoury of interactive audio shapes, ranging from minimal tech touches, fidget cuts and jitters to tonal motions, crescendos and extreme modulations. By combining several FX together you can create anything from subtle transitions and progressions to mind-blowing, panoramic special effect sequences.Twist is a collection of over 900 contemporary shape FX, formulated for you to create twisted digital special effects with maximum simplicity. Create unique "twists" in your audio with an interchangeable production palette edited specifically for the quick generation of original digital SFX.
Free Download DemoMore Push Button BangMore FXMastering service
The music genre for this product collection is mainly FX
Beginners will find themselves creating sounds that they never thought possible, while the advanced producer will discover a wealth of inventive source data that will save countless hours of intense sound design, automation and editing.
If you are producing FX, here you can find also more FX presets and/or sample packs
The content is divided into an intuitive folder structure for easy individual browsing, plus there are dozens of ready-to-go multi-mix kits in the usual major formats. The Live pack contains clip and pre-assigned rack versions of each FX, enabling easy individual morphing, plus a whole range of multi-mix racks for quick layering and combinations.

Additional production style(s) for this collection is/are Cinematic , Club Archive, and Sound Archives

Twist will find a place in all your existing and future audio productions. Whether you're working on glitchy electro, crisp minimal tech, dark dubstep, radio stings, game soundtracks or broadcast production, Twist is the easy way to push your SFX elements to new extremes.

Want to try some samples first?
Create an account and download free samplepacks from Push Button Bang here
Finished your production?
We can do the Mixing and or Mastering here for you.