Push Button Bang brings you this new library called Robostep V2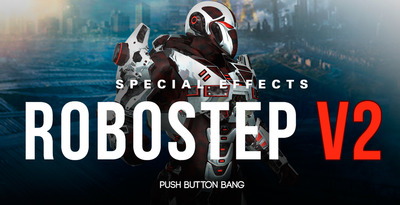 Push Button Bang went into the lab, soldered a Ouija board together with electrical circuits, plugged it into the desk and summoned up the soundtrack of a Dystopian robotic future: a cinematic, sci-fi sonic palette from a world now owned by the Decepticons! (although most likely still in partnership with Google and Amazon).Welcome to Robostep V2: your advanced, movie-quality FX library for Cinematic styles, Dark Dubstep, twisted Drum n Bass, Tech Breaks, Game Audio and media post production.
Free Download DemoMore Push Button BangMore DubstepMastering service
The music genre for this product collection is mainly Dubstep
Power up your DAW with a supercharged selection of the Darkest AI audio: imagine the sound of Kurzweil's singularity giving birth to a possessed army of demonic robots and you have some idea of the intensity of this collection!
If you are producing Dubstep, here you can find also more Dubstep presets and/or sample packs
Robostep 2 continues the style of dark and deformed robot-style movements, drops and breakdowns: this time focussing on impacts, weaponry, evil mechanics and monster machines as well as cinematic moments and complex transformation sequences.

Additional production style(s) for this collection is/are Drum and Bass and FX
The separate Ableton Live (9.1.5+) pack features all WAV clip versions plus 11 bespoke Remix Racks with pitch manipulation controls that will help you engineer astonishing sounds and sequences in seconds.

The samples can work individually for add on fx and single hits, however the true power of the collection is illustrated when using the sounds in combination. You will be able to create huge, complex impact, sequence, transition and build fx that are just not possible any other way. With over 350 24-bit WAV files, processed, key-mapped to their root-notes and divided into easy-access folders, all royalty-free so you can slot them straight into your music, game or broadcast project without having to worry about any additional licensing fees.

Want to try some samples first?
Create an account and download free samplepacks from Push Button Bang here

Create the most intense futuristic audio in your production with Robostep 2: a peerless SFX resource for the pioneering producer.
Finished your production?
We can do the Mixing and or Mastering here for you.