Push Button Bang brings you this new library called House Builds and Breakdowns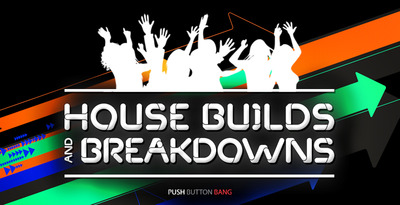 This enormous compilation of special FX, melodies, tonal flourishes and rhythm loops has been created with just one thing in mind: helping you deliver explosive and unique drop points in your house production.Create the perfect hands-in-the-air moment with HOUSE BUILDS AND BREAKDOWNS, a collection that is guaranteed to give your tracks the crescendos and climaxes to destroy dance floors and lift crowds up, up and away!
Free Download DemoMore Push Button BangMore HouseMastering service
The music genre for this product collection is mainly House
The FX Based section includes Myriad drop FX and multiple layered, evolving crescendo FX, to use separately or combine together for a "wide-screen" sound. A unique feature gives each "build" a number of "outs" at different bars, allowing you to decide just how much of the loop you want to utilize, whilst all contain FX tails for truly seamless integration.
If you are producing House, here you can find also more House presets and/or sample packs
A massive 1.2 GB of content gives producers, DJs and Ableton Live performers an almost unlimited amount of creative climactic possibilities. Manipulate single samples or blend loops together to generate breakdowns on a small or epic scale; apply melody parts and tonal touches to add new colour to productions or use them as the inspiration for entirely new tracks… the choice is yours.

Additional production style(s) for this collection is/are FX
The Rhythm section enables you to quickly add movement and energy with an assortment of noise rhythms, pulses, drum builds and momentum under-lays to push your drop to the edge.

The Tonal section features a multitude of melody and tonal components alongside noise variations to create depth and transition. This section also features 5 purpose-built breakdown kits, complete with MIDI parts, specifically designed for house crescendo formation.

Want to try some samples first?
Create an account and download free samplepacks from Push Button Bang here

DJs and Ableton Live performers will be awed by this libraryís potential for creating additional movement in their sets, or uniquely lengthening, re-shaping or remixing tracks on-the-fly.

Loops range from 2 to 64 bars in length, with tempos at 126 and 128 BPM, and as you'd expect from a Push Button Bang release, all samples are in pristine 24-bit quality, with root notes and tempos assigned on relevant material.
Finished your production?
We can do the Mixing and or Mastering here for you.