Prime Loops brings you this new library called Deadly Dubstep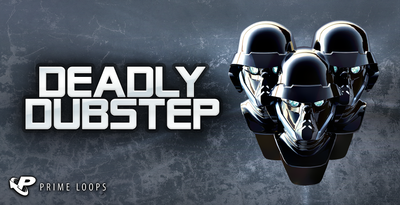 Don't be accused of producing lightweight tunes, aim Deadly Dubstep at your mix and shake up your sound with optimum force! If deep, oppressive elements are the key to your tracks then dock your vessel to this bass station and stay on target for a direct hit. From the heavy gravitational pull and utterly immense impacts of those big phat beats to the sublime liftoff of those insidious synths and the buoyant voyages of that obese wobble bass, this sample pack takes those essential Dubstep elements and thrusts them into hyperdrive.Defect to the dark side with Deadly Dubstep! Deployed from Prime Loops' own custom-built 'Wubstar' studio, hidden deep within a distant galaxy, this sinister sample pack is light years ahead in ferocious audio force. Exploring cavernous nebulas of noxious elements, this tractor beam of Bass, Drum, Synth and FX samples guarantees to blow a hole straight through the scene!
Free Download DemoMore Prime LoopsMore Sound ArchivesMastering service
The music genre for this product collection is mainly Sound Archives
The force is strong in this one and it's yours to use 100% royalty free! So if you're looking for some dark deliverance, give your beats that bad influence with Deadly Dubstep and divide solar systems with some truly tyrannical vibes!
If you are producing Sound Archives, here you can find also more Sound Archives presets and/or sample packs
Choose your poison from over 716MB+ (!) of lethal samples, sharpened and set to stun in amazing 24-bit high definition and arranged across 5 folders of Bassline Loops, Drum Loops, One-Shots, Synth Loops and SFX. >From cold steel shuffles to massive impacts, there's plenty to keep that beat bold enough to withstand the bloated weight of any phat, throbbing bass you care to throw at it! With a smattering of sonorous SFX, Deadly Dubstep offers every component required to corrupt your mix with vibes straight from the dark side! You can pull any of these samples straight into your mix by clicking, dragging and dropping straight from your download folder into any major software package. Once the loop has automatically synced you can adjust the BPM to whatever tempo you require with another simple click and drag.

Additional production style(s) for this collection is/are Breaks Archive and Dubstep

Want to try some samples first?
Create an account and download free samplepacks from Prime Loops here
Finished your production?
We can do the Mixing and or Mastering here for you.