Loopmasters brings you this new library called Circuit Bent Sounds Vol. 3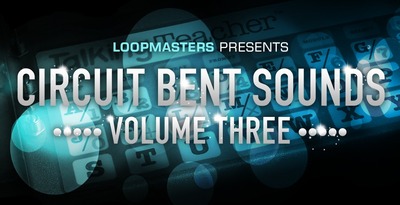 Circuit Bent sounds Vol.3 ventures once more into the outer reaches of experimental audio electronics to bring back another collection of twisted beats and deformed audio sickness guaranteed to deliver a fresh bout of insanity to any production. From a cut-price drum toy to the mighty Roland SH101, nothing is safe from circuitbenders.co.uk attentions, with every machine being treated with an equally relaxed concern for its basic rights to bring you this unique set of sounds.Back once again from the electronic surgery of the Circuitbenders labs, the products of an unholy alliance between soldering iron and sampler return to unleash another unhealthy dose of audio terrorism upon your unsuspecting senses!
Free Download DemoMore LoopmastersMore Sound ArchivesMastering service
The music genre for this product collection is mainly Sound Archives
Circuit Bent Sounds vol 3 includes over 650Mb of content, comprising of over 758 samples, 283 Loops and 475 Single Sounds, and comes with 22 ready to play patches for all the most popular software samplers including Reason's NNXT, Halion, Kontakt, EXS and SFZ . Acidised Wav, Rex2 and Apple Loop formats are all available. In total you get 209 Drum Loops, 74 Sound Loops, and 22 Sounds and FX from a simply huge collection of circuit bent toys, drum machines and instruments of all types.
If you are producing Sound Archives, here you can find also more Sound Archives presets and/or sample packs
Stepping outside of normal methods of synthesis and audio production to unlock the true potential of an otherwise ordinary bit of hardware is the circuitbenders technique, All the machines used on this release have been rewired and abused to operate far beyond their normal design limits, enabling them to produce all those sounds that the original designers either fought to avoid or just never dreamed possible.

Additional production style(s) for this collection is/are Glitch, FX, and Electronica
Since 2001 http://www.circuitbenders.co.uk have been rewiring electronic toys, old drum machines and synths for hundreds of artists worldwide including some of the biggest names in electronic music.

The machines on this collection include old school drum machines given a new lease of life in the form of the rare Akai XR10, the Yamaha RX7, Korg DDD1, Casio RZ1 sampling drum machine, Boss DR550 and the legendary Roland TR707, along with a host of esoteric electronic devices and toys supplying extra beats. Modified keys and synths include the analogue Roland SH101, the MFOS weird sound generator, Yamaha PSS270, Casio SA5, Rocktek Delay pedal and the favourite of every lofi musician and circuit bender, the Casio SK1 sampler. Finally theres a whole consignment of rewired kids toys including Early Leaner shapes toy, Letterland toy, Bongon electronic bongos, VTech Talking Alfie teddy bear, Little Tykes guitar, Mix Me DJ toy and the classic Texas Instruments Speak & Read and Speak & Write toys amongst many others.

Want to try some samples first?
Create an account and download free samplepacks from Loopmasters here
Finished your production?
We can do the Mixing and or Mastering here for you.