Industrial Strength brings you this new library called Cinematic Tools Vol.1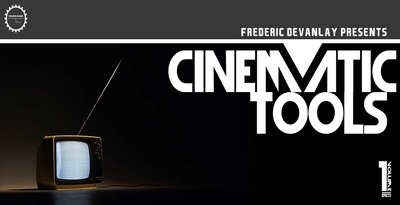 Cinematic Tools is a pristine effect collection and was produced by none other than Fred Devanlay. Fred has been a composer and sound designer for 18 years, he has co produced and engineered for French Dj's Claude Monnet, Erik Rug and Martin Solveig.At Industrial Strength we are always reaching further to bring you the finest underground sample and preset packs for your music productions, so we are extremely proud to broaden our scope and present our first primer collection of effects and cinematic kits especially made for the modern cinematic producer.
Free Download DemoMore Industrial StrengthMore CinematicMastering service
The music genre for this product collection is mainly Cinematic
Some of his outstanding sound design, game and advert works include : Splinter Cell Double Agent, Splinter Cell Pandora Tomorrow, Driver San Fransico, Ghost Recon Advanced War Fighters 1& 2, Brothers in Arms, Far Cry Rayman 3, Raving Rabbids, Hereo's of Might, Ant Magic 5& 6, Nathan Hawks, Deep Impact, Perception, Louis Vuitton, Rexona, Renault, L'Or and Heinken adverts. The list goes on.
If you are producing Cinematic, here you can find also more Cinematic presets and/or sample packs
Fred created Big Wheels Studio in 1990 and started rocking the video game and film industry. He has worked on many AAA games with U.S. composers Tom Salta, Cris Velasco, Sascha Dikiciyan. Fred was also nominated several times for the (BAFTA, GANG awards) as "Sound Designer of the year".

Additional production style(s) for this collection is/are FX
In this first collection Fred provided the essential one shot effect samples you need to really beef up any break down or build up in music or films. The effects are great for layering so you can create your own personal touch to each sound. This pack is outstanding for any electronic music style. The pack includes great drum loops and music loops all keyed and labeled with the tempo for ease of use when searching for the right sound.

Fred Devanlay's Cinematic Tools collection starts off with a fabulous selection of effects that will blow your mind with the depth and the clarity that you would expect from such a well known and experienced sound designer.

Want to try some samples first?
Create an account and download free samplepacks from Industrial Strength here

The pack also contains 5 Cinematic Kits which contain Main Cues and feature broken down layers so you can produce your own cinematic music with not much effort.

Cinematic Tools contains Explosions Risers, Pass-bys,, Reverse effects, Sweeps, Impacts, Dives and truly ear grabbing audio loops that are fantastic for any film or music production.
Finished your production?
We can do the Mixing and or Mastering here for you.