Freaky Loops brings you this new library called Huge Snare & Clap Collection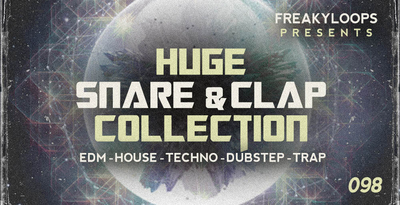 From crisp and crunchy to tight and hard and dirty to phat snares will take your rhythm section to another dimension and give it some serious punch and attitude. This pack offers a diverse collection of layered claps, synthetic snares, processed machine claps and live claps, filthy lo-fi snare sounds, huge impacts, layered snare/clap ensembles, rapid fire snares, crispy claps, multi-layered trap snares and much more.. If you've ever wondered how to get that massive snare sound, then this high quality selection of samples is for you. This product gives you amazing snares that any producer would love to get their hands on.We're proud to present our latest release "Huge Snare & Clap Collection" featuring 1030 of the finest snare & claps samples collected from a various popular Freaky Loops products to date!!
Free Download DemoMore Freaky LoopsMore DrumsMastering service
The music genre for this product collection is mainly Drums
All samples featured in this pack are taken from the following released packs;
If you are producing Drums, here you can find also more Drums presets and/or sample packs
In detail "Huge Snare & Clap Collection" includes 140 Analog Claps, 130 Analog Snares, 75 Clap Layer Snares, 80 Dynamic Claps, 80 Dynamic Snares, 20 Fx Snares, 55 Impact Claps, 60 Impact Snares, 30 Live Recording Claps, 20 Live Recording Snares, 60 Multi Layered Snares, 60 NYC Snares, 35 Processed Claps, 35 Processed Snares, 30 Short Impact Claps, 70 Short Impact Snares and 50 Synth Snares. You can use these samples in as many ways as you desire.

Additional production style(s) for this collection is/are
– EDM Snare & Claps Vol 2

– EDM Snare & Claps Vol 1

Want to try some samples first?
Create an account and download free samplepacks from Freaky Loops here

– Trap Drums Vol 2

– Trap Drums Vol 1
Finished your production?
We can do the Mixing and or Mastering here for you.