Black Octopus brings you this new library called OB-6 Analog Sweeps Feat. Culture Vulture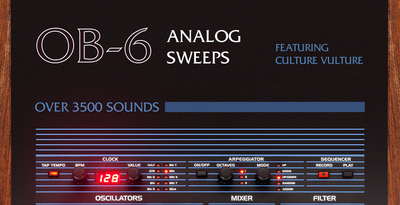 This pack fully dives into the sonic possibilities of the OB-6 and its filter with over 3500 sounds (327 original and hand sculpted sweeps, each run through 10 distortion variations through the iconic Culture Vulture to create rich new harmonics, overtones, and brand new sounding sweeps). The characteristics range from dark, evil, to spacey and sci-fi. As a bonus, 36 additional huge atmospheric sounds have been added which can work as background ambient textures or long evolving sweeps.OB-6 Analog sweeps is the first pack in a series that celebrates the modern day classic OB-6 analog synthesizer built by legendary synth designer Dave Smith. There's a special warmth and organic quality that comes from an analog synthesizer – instead of ones and zeros used to create exact and precise sounds, voltages are used to generate the sounds. This way of sound creation creates non-linearities and subtle unstableness to the sound which can really make the sounds feel alive.
Free Download DemoMore Black OctopusMore FXMastering service
The music genre for this product collection is mainly FX
If you are producing FX, here you can find also more FX presets and/or sample packs
If you want to take advantage of the depth and warmth of a boutique analog synthesizer but don't want to break the bank, this pack is a great entryway to obtain that palette of sounds. The sweeps will feel right at home in soundtrack scores, techno, deep house, & EDM tracks (try and sidechain on these for some really magical results), downtempo, and many other genres.

Additional production style(s) for this collection is/are Cinematic , Synths, and Techno

Want to try some samples first?
Create an account and download free samplepacks from Black Octopus here
Finished your production?
We can do the Mixing and or Mastering here for you.