by iZotope
More iZotope
More FX Bundle plugins
Mastering service
Note: This is a crossgrade version from any iZotope product excluding Impulse (DDLY & Mobius Filter) and free products.
This incredible value combines seven of the most popular tools from iZotope's portfolio. Neutron Advanced for clear, focused mixes. Ozone 7 Advanced, the comprehensive mastering suite packed with classic vintage models. Complete vocal production with Nectar 2 Production Suite and the creative playground of VocalSynth. Unlimited distortion and sonic mangling with Trash 2 Expanded. The essential audio repair and restoration tools of the RX Plugin Pack, and the TEC award winning metering solution Insight. These are plugins professionals have relied on as "secret weapons" for years, now available as a complete package for a special price.
Included in the iZotope Music Production Bundle 2
(Click each product's user interface for more information).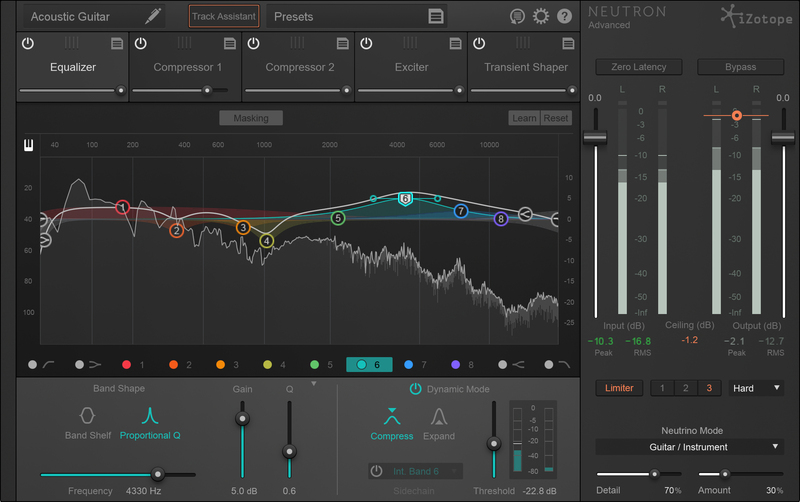 The Neutron mixing plugin combines five greatsounding new processors with the latest in intelligent metering and analysis. Like having a virtual assistant, Neutron can listen to your audio, identify instruments, and offer tailored starting points for creating powerful mixes with focus and clarity while leaving all the creative control to you. The revolutionary new Masking Meter can help you visually identify frequency collisions between instruments, allowing you to tweak each track so it sits better in the mix. Optimized for mixing, you can use this on dozens of tracks to carve away muddiness and reveal new sonic possibilities in your mixes.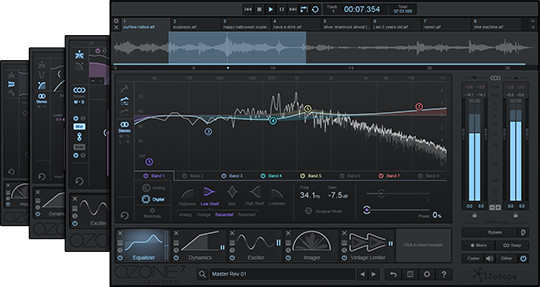 Bring a new artistry to your masters with Ozone 7, a powerful expansion of iZotope's critically acclaimed mastering software platform. Use the full suite of mastering tools including a worldclass Maximizer, the living and breathing Dynamic EQ, and the new Vintage Limiter, Vintage EQ, Vintage Compressor, and Vintage Tape as a plugin within your audio editing software or as a standalone application. Bring the best sonic characteristics of analog hardware to your digital recordings. Glue a mix together, control dynamic range, and add that elusive "character" to your music. Plus, preview the sound of your masters before you output with the new Codec Preview.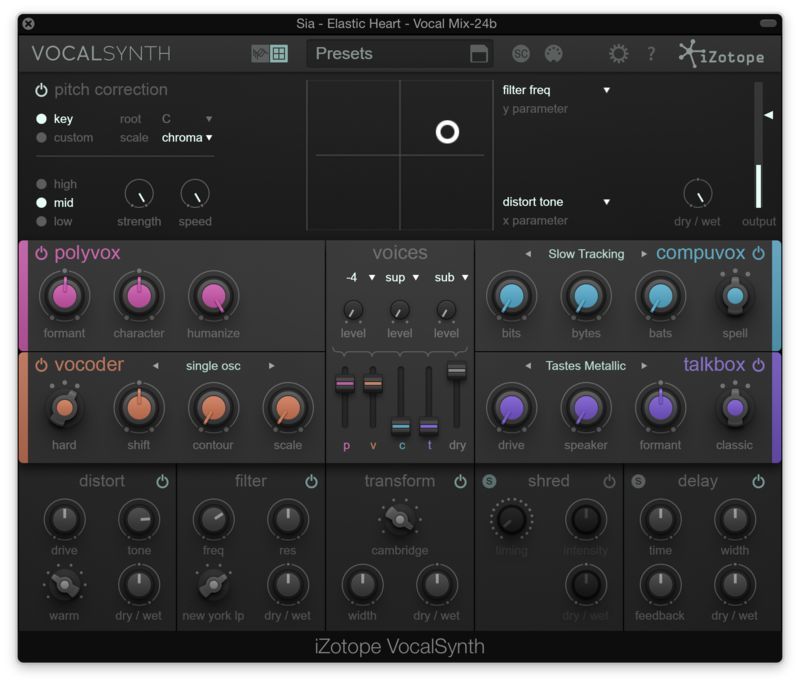 Ready for a transformative vocal experience? With VocalSynth, iconic vocal sounds from decades past and the wild vocal sounds you've only heard in your head are finally within reach. Manipulate your voice to create electronic vocal textures, robot sounds, computerized harmonies, vocoder and talkbox effects, thick octaves or doubles, and everything in between. Unique vocal effects have driven hit songs and launched careers. It's time for your vocals to stand out, too.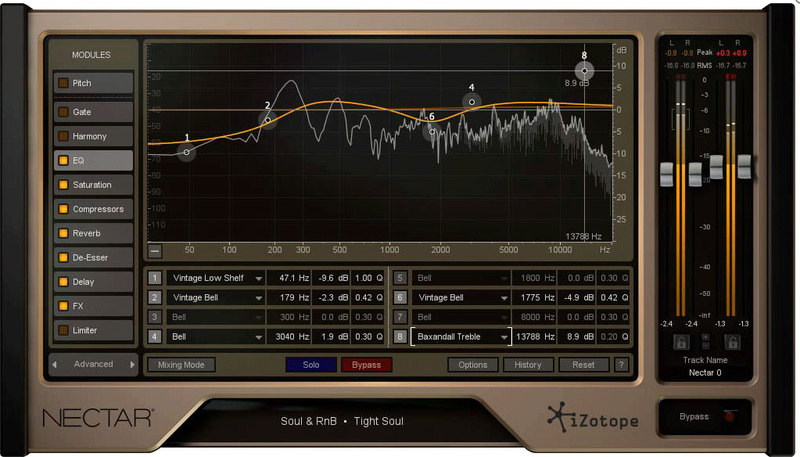 Bring a vocal track to life with the only complete set of tools designed specifically for voice. Whether you're a producer, engineer, musician, or voiceover artist, Nectar 2 Production Suite helps you easily recreate classic vocal styles or create brand new ones with a sound that's uniquely yours. Add impact with modeled plate reverb, harmonic saturation, and a wealth of creative effects. Stay in tune and remove distracting breaths without tedious, time consuming editing. Rapidly audition different vocal sounds with 150+ presets in a variety of genres. Whether you're tracking or you're mixing, Nectar 2 delivers professional vocals in an instant.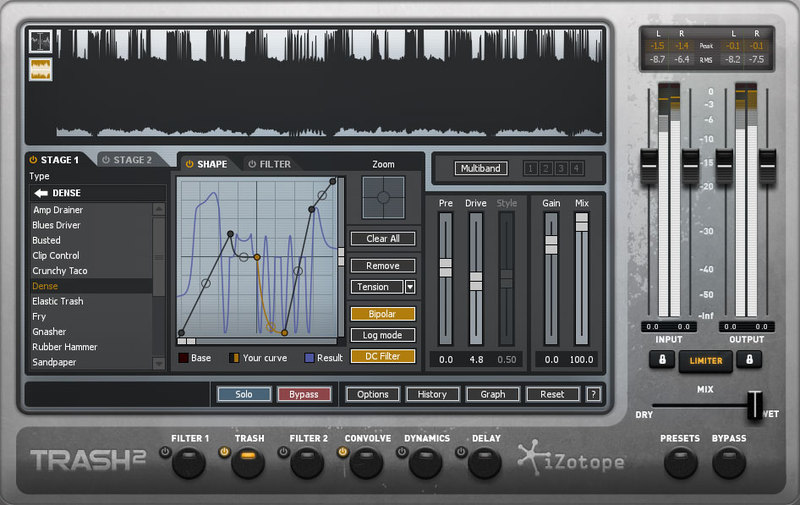 Trash 2 combines the power of multiband, dual stage distortions and advanced post filtering for immediate sonic transformation. Give your low end some thump, get a warm crunch on the midrange, and let your high end soar. With over 300 presets, start mangling your guitars, basses, drums, synths, pads, vocals, brass, woodwinds, and more. Design your own unique distortions, from massive to mild and everything in between. Capture the audio characteristics of another space or object with over 100 Impulse Responses.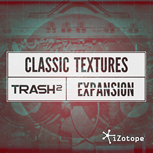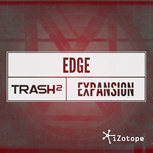 Trash 2 Expanded includes both the Classic Textures and Edge expansion packs.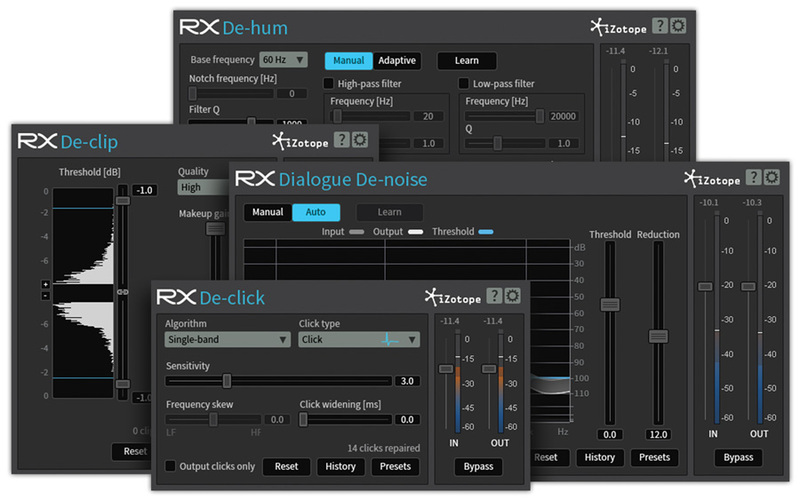 RX Plugin Pack can help you rescue your audio. Remove background noise and sudden sounds that can mar instrument and vocal performances. Transform audio from tricky recording scenarios into usable tracks and avoid re recording. This pack of four essential audio repair plugins — Declick, Dehum, Declip, and Dialogue Denoise — is curated directly from iZotope's award winning RX software and offers the same industry leading technology used on major label releases, network television, and Hollywood films. Use them within your audio or video editing software to fix audio you thought you'd never be able to use.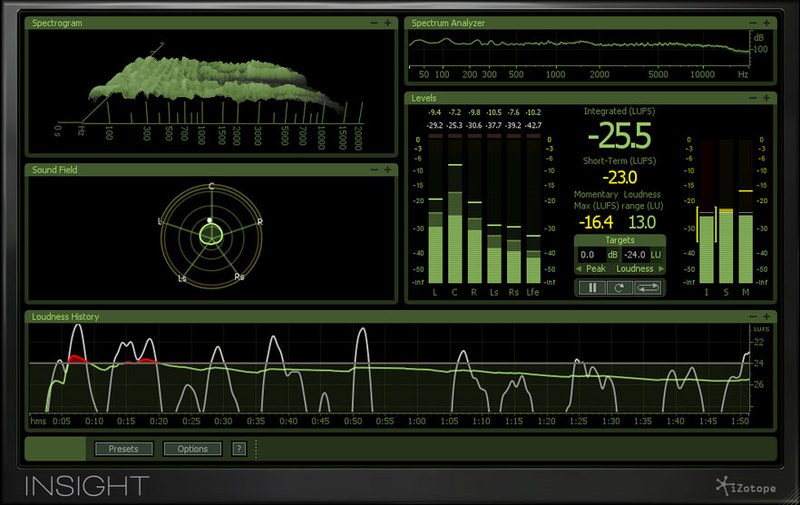 Insight is iZotope's essential metering suite, bundled with Ozone Advanced as an additional plugin (a $499 value). With its extensive set of audio analysis and metering tools, Insight is perfect for visualizing changes made during mixing and mastering and troubleshooting problematic mixes. Fully customizable and scalable, Insight allows you to visually monitor all relevant information from your mono, stereo or surround mix in a convenient floating window. Keep an eye and an ear on your mix at all times.
System Requirements
Neutron Advanced
Windows: 7, 8, and 10
Mac: OS X 10.9–10.11 (Intel only)
Pro Tools 10-12 (RTAS, AudioSuite, 64-bit AAX), VST 2, VST 3, and Audio Unit formats available
Pro Tools 10-12, Logic Pro X, Ableton Live, FL Studio, Cubase, Nuendo, Studio One, REAPER, and many more
Please Note:
Neutron Advanced includes four additional component plug-ins for direct access to individual Neutron modules in your host.
Ozone 7 Advanced 
Windows: 7, 8, and 10
Mac: OS X 10.8–10.11 (Intel only)
Pro Tools 10-12 (RTAS, AudioSuite, 64-bit AAX), VST 2, VST 3, and Audio Unit formats available
Pro Tools 10-12, Logic Pro X, Ableton Live, Cubase, Digital Performer, SONAR, REAPER, and many more
For use of the scrolling 3D Spectrogram in Insight, Ozone 7 Advanced requires a graphics card that supports Open GL 2.0.
Minimum Screen Resolution – Plug-in: 1,159 x 614
Standalone application: 1,166 x 827
Please Note:
Ozone 7 runs as a standalone application, or as a plug-in in your audio editing software. Ozone 7 Advanced includes ten additional component plug-ins for direct access to individual Ozone modules in your host.
VocalSynth 
Windows: 7, 8, and 10
Mac: OS X 10.8, 10.9, 10.10, 10.11
2.8 GHz Intel Core i7 (or comparable)
VocalSynth's Wave-meter requires a graphics card that supports Open GL 2.0
AAX (64-bit), AAX AudioSuite (64-bit), RTAS (32-bit), DPM AudioSuite (32-bit), VST2, VST3, and Audio Unit formats available
Pro Tools 10.3.1, Pro Tools 11.3.1, Pro Tools 12.4, Ableton Live 9.5, Logic Pro X, Cubase Pro 8.5, REAPER 5.11, Studio One 3.1.1, FL Studio 12.2 and more
Please Note:
VocalSynth may require higher CPU resources when running every module at sample rates of 96 kHz or higher. At these sample rates, the above is recommended
Nectar 2 Production Suite 
Windows: XP (32-bit Service Pack) 3, 7, 8, 10
Mac: OS X 10.6.8-10.11
AAX (Pro Tools 11-12), RTAS/AudioSuite (Pro Tools 7.4-10), VST and VST 3, Audio Unit formats available
Nectar 2 works as plug-ins in popular hosts* like Pro Tools, Cubase, GarageBand, Logic, Ableton Live, Reaper, StudioOne, Audition, SONAR X2 & X3, ACID, Vegas, Sound Forge, and many more
*The Pitch Editor plug-in included with Nectar 2 Production Suite is not compatible with some hosts like Sound Forge, GarageBand, ACID, Audition, and Samplitude
Trash 2 Expanded 
Windows: XP (32-bit Service Pack 3), Vista (64-bit), 7, 8, 10
Mac: OS x 10.6.8-10.11 (Intel only)
Pro Tools 7.4-12 (RTAS, AudioSuite, 64-bit AAX), VST, VST 3, Audio Unit, DirectX formats available
Compatible with both 32-bit and 64-bit hosts like Pro Tools 7.4+, Cubase, Nuendo, GarageBand, Logic, SONAR, ACID, Vegas, Ableton Live, and many more
Please Note:
Trash 2 runs as a plug-in within your audio editing software. Trash 2 is not a standalone application
RX Plug-in Pack S
Mac: OS X 10.8–10.11
Windows: 7, 8, and 10
Native AAX 64 bit, RTAS 32 bit, Audiosuite DPM 32 bit and AAX 64 bit, AU 32 and 64 bit, VST 2 32 and 64 bit, VST 3 formats available
Pro Tools (10–12.4), Ableton Live (9.5), Logic Pro X (version 10.2), Nuendo 7 / Cubase 8.5, Audition CC 2015, Sonar, PreSonus Studio One, Media Composer 7.0.5 & 8.4.5, Premiere Pro CC 2015, Final Cut X, Sony Sound Forge (Windows: V.11.299; Mac: V.2.5.133), Digital Performer, Reaper
Insight
Windows: XP (32-bit Service Pack 3), Vista (64-bit), 7, 8, 10
Mac: OS X 10.6.8-10.11
Pro Tools 7.4–12 (RTAS, AudioSuite, 64-bit AAX), VST, VST3, Audio Unit formats available
Compatible with both 32-bit and 64-bit hosts, like Pro Tools 7.4+, Avid Media Composer, Nuendo, Cubase, WaveLab, Logic, EDIUS Pro 6.5, Final Cut Pro X, Audition, Premiere Pro (Surround only), SONAR, REAPER, Digital Performer, Sound Forge Pro, Vegas Pro, and many more
Graphics Card Requirements – for use of the scrolling 3D Spectrogram, Insight requires a graphics card that supports Open GL 2.0​
Please Note:
Insight runs as a plug-in within your audio editing software. Insight is not a standalone application
Want to try it first?
Create an account and download free iZotopeiZotope Music Production Bundle 2 Crossgrade from Standard demo here