by FabFilter
More FabFilter
More FX Bundle plugins
Mastering service
The Mastering Bundle contains FabFilter's essential plug-ins for mastering: our professional limiter, EQ, multiband dynamics and compressor plug-ins.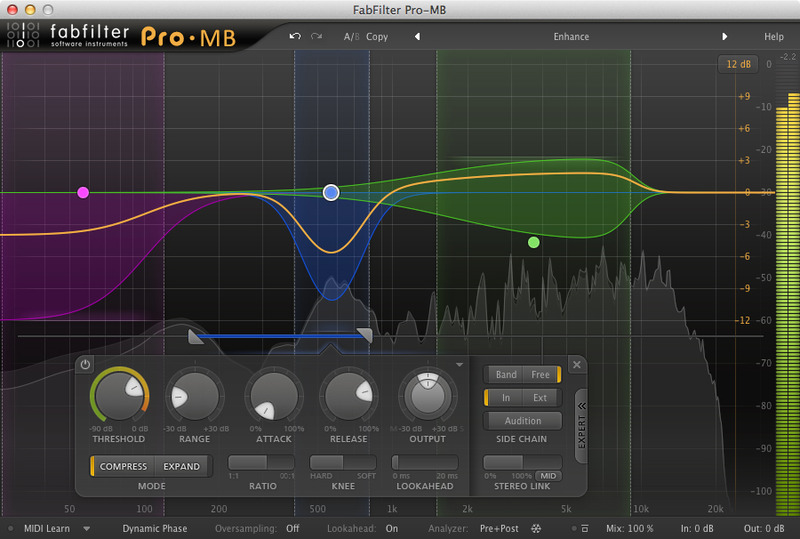 Powerful and Intuitive
Multiband compression and expansion are powerful tools, but notoriously difficult to set up and control. Enter FabFilter Pro-MB: making multiband dynamics processing intuitive yet powerful at the same time.
A New Approach
Instead of conventionally splitting the entire spectrum with crossovers, Pro-MB enables you to directly create a new band at the frequency range you want to work on. Think bands, not crossovers!
The interactive multiband display clearly shows that the rest of the spectrum stays untouched. And if desired, you can easily snap bands together to recreate a traditional crossover system.
Lifesaver and Timesaver
FabFilter Pro-MB introduces a unique Dynamic Phase processing mode. It has virtually the same frequency response as traditional multiband processing, but doesn't introduce latency or pre-ringing, and only introduces minor phase changes when the gain actually changes. Of course, we have also included an excellent Linear Phase mode and a traditional Minimum Phase mode.
The powerful combination of high quality processing, optimized workflow using the interactive multiband display and all the expert features you need, makes Pro-MB both a lifesaver and timesaver!
Click the link for further info on FabFilter Pro-MB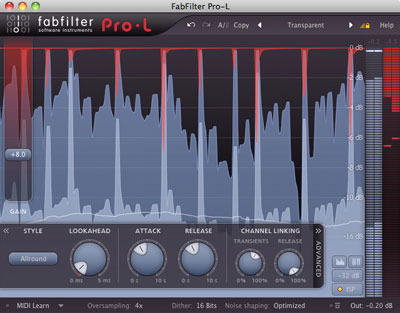 Loud and Clear
A brickwall limiter is an essential tool for every mastering or mixing engineer. Are you looking for a professional, feature-packed limiter that is loud and transparent at the same time? Then FabFilter Pro-L is your weapon of choice! 
Top-Class Metering
FabFilter Pro-L features surgically precise output and level meters, including inter-sample peak detection and K-System support. Combined with its unique real-time level display, you have all the information you need to achieve the best possible results.
Professional Feature Set
With linear-phase oversampling, advanced dithering and noise shaping, customizable look-ahead, attack, release and channel linking settings, and super-precise metering, FabFilter Pro-L is the complete solution for every mixing and mastering job.
Click the link for further info on FabFilter Pro-L.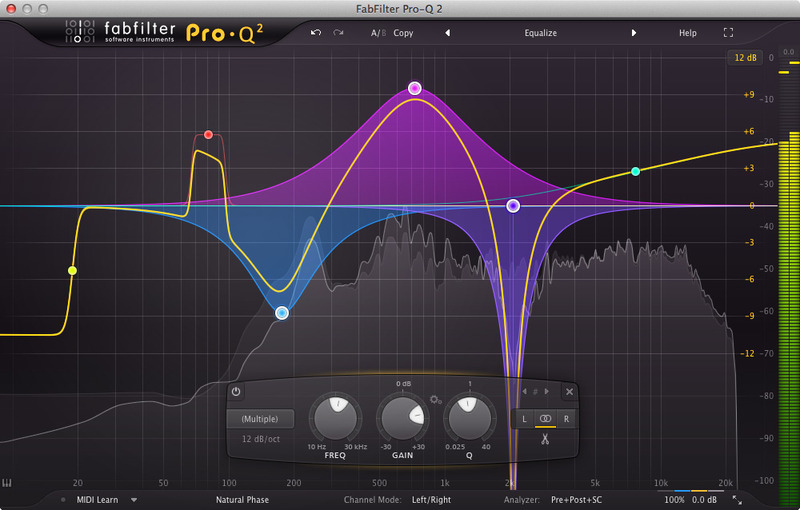 Unrivalled Sound and Workflow
An equalizer is probably the tool you use most while mixing and mastering, so you need the best of the best! As you can expect from FabFilter, Pro-Q 2 gets you the highest possible sound quality and a gorgeous interface with unrivalled ease of use.
Effortlessly Sculpt Your Sound
FabFilter Pro-Q 2 is designed to help you achieve your sound in the quickest way possible. Via the large interactive EQ display, you can create bands where you need them and select and edit multiple bands at once.
Unique features like Spectrum Grab, Full Screen mode and EQ Match will speed up your workflow even more. 
Mixing and Mastering Features
Pro-Q 2 offers everything that a demanding engineer could wish for: top quality linear phase operation in addition tothe zero latency and unique Natural Phase modes, Mid/Side processing, variable stereo placement of EQ bands, an intelligent solo feature, optional Auto Gain and a built-in, fully customizable spectrum analyzer.
Click the link for further info on FabFilter Pro-Q 2.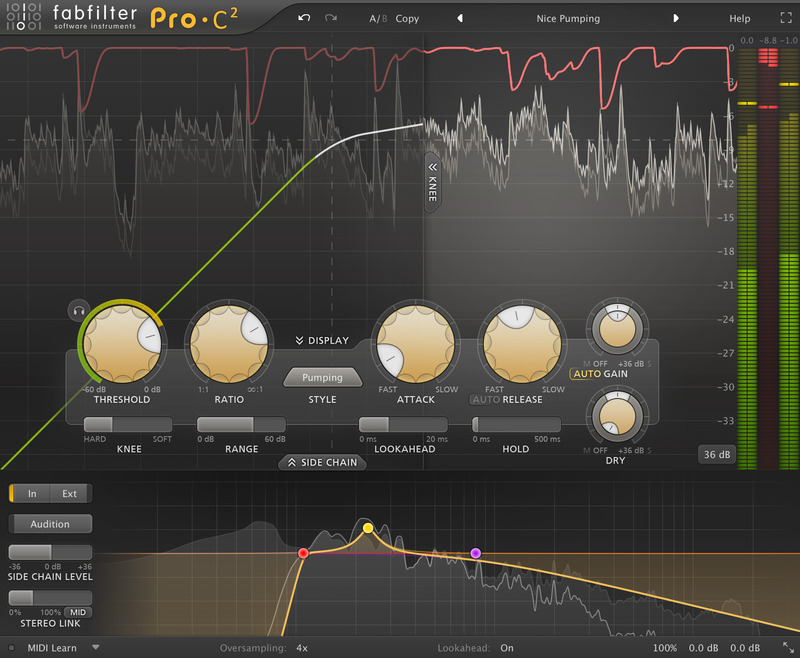 Incredible Sound and Character
FabFilter Pro-C 2 is a high-quality compressor plug-in for the most demanding engineers. Whether you need subtle mastering compression, an upfront lead vocal, that magic drum glue or deep EDM pumping: Pro-C 2 gets the job done with style!
Everything You Need
Pro-C 2 offers eight different, program-dependent compression styles with beautiful sound and character. But there's more! Apart from the classic compressor controls, you also get smooth lookahead, up to 4x oversampling, intelligent auto-gain and auto-release, a variable knee, hold, range, external side-chain triggering, variable stereo linking and mid/side processing, all packed in a beautiful Retina user interface.
Click the link for further info on FabFilter Pro-C 2.
System Requirements
Windows:
64-bit: Windows 10, 8, 7 or Vista
32-bit: Windows 10, 8, 7, Vista or XP
VST 2/3 host or Pro Tools
Mac OS X:
64-bit: OS X 10.6 or higher
32-bit: OS X 10.5 or higher
AU or VST 2/3 host or Pro Tools
Intel processor
Plug-In Formats:
All FabFilter plug-ins are available in VST, VST3, Audio Units, AAX Native and AudioSuite formats (all both 64-bit and 32-bit), as well as RTAS (32-bit only)
Want to try it first?
Create an account and download free FabFilterFabFilter Mastering Bundle demo here