by Positive Grid
More Positive Grid
More Delay plugins
Mastering service
Rock 'n' Roll Just Entered a New Dimension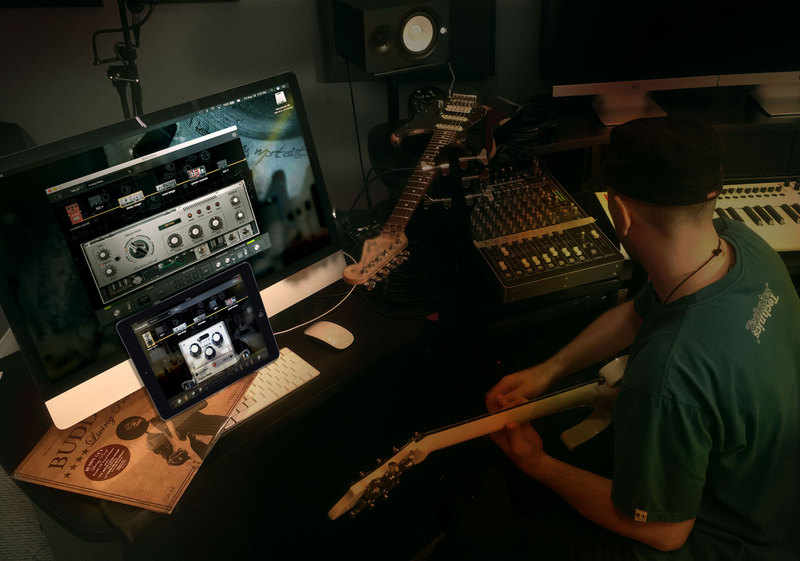 BIAS Pedal first rocked the guitar world with its embedded guitar-tone booster, the groundbreaking BIAS Distortion. Now comes the second storm: BIAS Delay. Wrapped in the same expandable BIAS Pedal shell as BIAS Distortion, BIAS Delay lets you quickly and easily design thousands of custom delay pedals from scratch—giving you a seamlessly integrated ecosystem of effects and distortion pedals.
Available both as a cross-platform plug-in and iPad app, BIAS Delay travels effortlessly between studio and stage. And of course, it's ToneCloud-ready. Upload and share your unique delay pedals on the ToneCloud social network for guitarists, and download thousands of unique delay pedals from fellow musicians around the world. An effects hoarder's dream come true, BIAS Delay is the last delay pedal you'll ever need!
Custom Pedal Design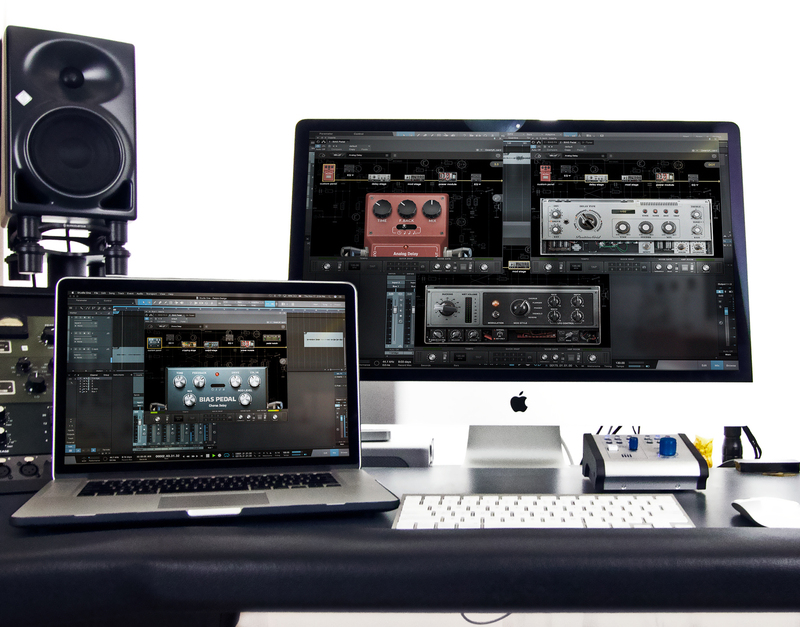 Full-bodied, creamy tone is just a knob twist away in BIAS Delay. Saturation and analog-tone controls add density and girth to the Delay Stage's input signal. The Power Module's full-featured compressor pushes your riffs to the front of the band. Adjust your pedal's virtual power source to deliver 18 volts for a relaxed, supple sound, or 6 volts to make your guitar tone sound like a beast straining on a leash! Use the Delay Stage's treble and bass controls to shape the tone of only the delay signal from bright to midrange-y to bass-heavy, while leaving your dry guitar tone untouched. Two 8-band graphic equalizers can be placed at various points along the signal chain with drag-and-drop ease to finely sculpt your overall tone. BIAS Delay gives you infinite tonal possibilities in a fast, intuitive interface.
Wet the Effect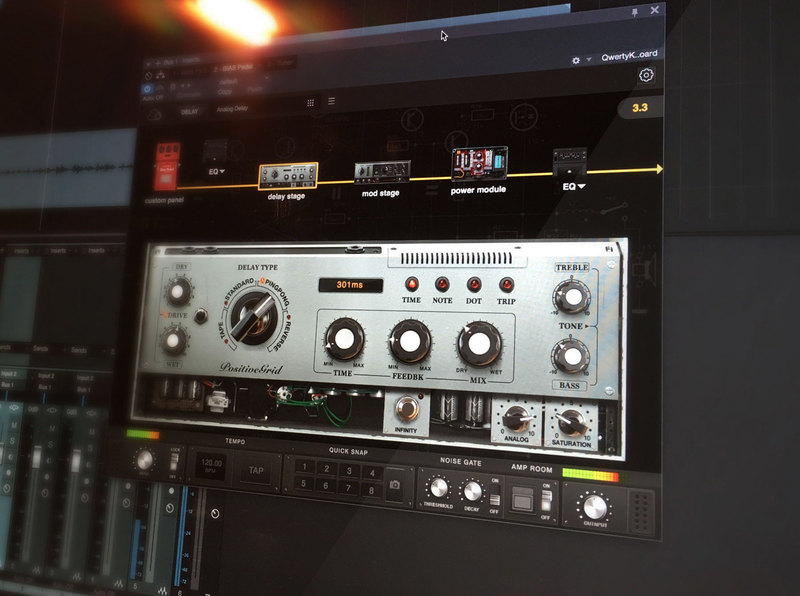 BIAS Delay is all about time-based effects—coloured with every timbre imaginable. Choose among four delay types to start: Standard for pristine digital delays, Tape for saturated vintage sound, Ping Pong for cruise ship-wide echo trails, and Reverse for ear-bending backward envelopes. Manual delay times from 1 to 3000 ms dish out every kind of delay-based effect from doubling to slapback to long echoes arriving from the next zip code. In the studio, sync BIAS Delay to your DAW for delay times ranging from a 32nd-note to a whole note, including dotted notes and triplets.
BIAS FX Integration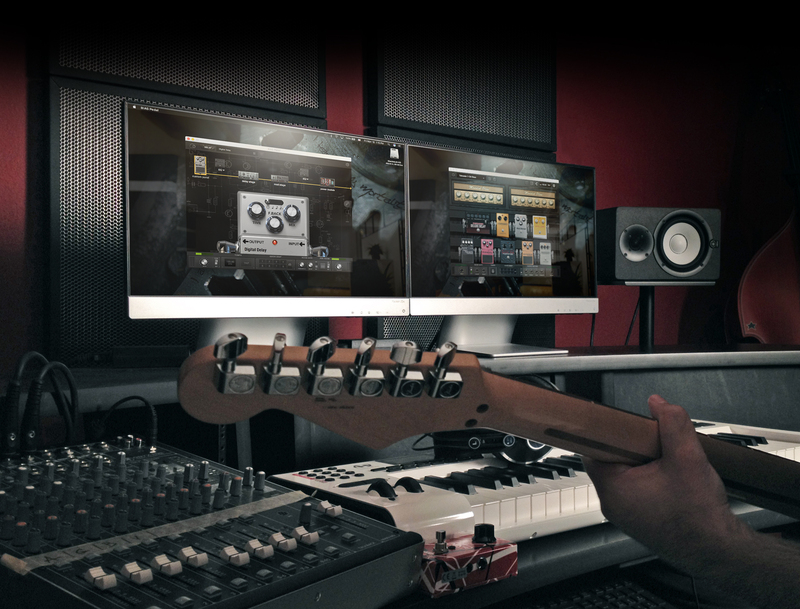 BIAS Delay seamlessly integrates with your BIAS FX mobile and desktop effects arsenals. It automatically imports your custom delay pedals into the BIAS FX pedalboard's dual signal chains with dual BIAS amps. It also includes all of BIAS Pedal's stock goodies, including Amp Room: six guitar amps from the rockin' BIAS Amp to blow through.
ToneCloud
Because BIAS Pedal is expandable, it's a platform for more than just delay and distortion pedals. More pedals are on the way. Positive Grid is all about building a complete musical war chest for guitarists in one integrated system.
BIAS Pedal Delay: Insane delay pedal customisation, infinite tonal possibilities and thousands of downloadable pedals at your fingertips.
Features:
Full-bodied, analog-like sound.
Extremely intuitive operation makes designing your own delay pedals a snap.
Killer factory presets make great starting points for creating your own custom pedals.
Coming soon: Share your custom pedal setups and download other guitarists' custom BIAS Delay pedals on ToneCloud, Positive Grid's ever-expanding social network.
Four delay types: Standard, Tape, Ping Pong and Reverse.
Delay times manually adjustable from 1 to 3,000 ms and sync-able to host.
Two 8-band graphic equalizers can be placed at various points in the signal chain via easy drag-and-drop.
Modulation Stage applies chorus, flanger, phaser, tremolo or reverb to delay signal.
Four waveforms—sine, triangle, square and sawtooth—and rate, depth, width and mix controls shape the Modulation Stage's LFO for multiple flavours of modulation.
Saturation and analog-tone controls add density to the Delay Stage's input signal.
Unique Infinity control gives perpetual feedback without runaway oscillation.
Automatic Ducker with threshold, gain reduction, attack and release controls and helpful wet-signal meter.
System Requirements
Mac OS X:
OS X 10.9 or later
Format: Audio Units, VST, RTAS, AAX Native
4GB of RAM minimal, 8GB or more recommended
700MB free disk space
BIAS Pedal requires A DAW software (Digital Audio Workstation) to host, however it now has a Standalone version too.
Internet connection is required to activate license and access Tone Cloud, BIAS Pedal doesn't support offline activation at this moment. It can run under offline mode after activation and disable Tone Cloud
Windows:
Windows 7 (SP1) or Windows 8
Format: VST, RTAS, AAX Native
4GB of RAM minimal, 8GB or more recommended
1.5GHz Dual core processor minimal, 2.0GHz Dual core or more recommended
250MB free disk space for per version (32 or 64 bits)
BIAS Pedal requires A DAW software (Digital Audio Workstation) to host, however it now has a Standalone version too.
Internet connection is required to activate license and access Tone Cloud, BIAS Pedal doesn't support offline activation at this moment. It can run under offline mode after activation and disable Tone Cloud
Please Note: Internet connection is required to activate license and access Tone Cloud, BIAS Pedal doesn't support offline activation at this moment. It can run under offline mode after activation and disable Tone Cloud
Want to try it first?
Create an account and download free Positive GridBIAS Pedal Delay demo here